Disclaimer: I was given the products in this post for the purpose of a review. I was not paid in any way to write this review. All opinions are my own.  This post may contain affiliate links that I receive commission or payment from in exchange for referrals. SouthernMessMoms is a participant in the Amazon Services LLC Associates Program, an affiliate advertising program designed to provide a means for sites to earn advertising fees by advertising and linking to Amazon.com.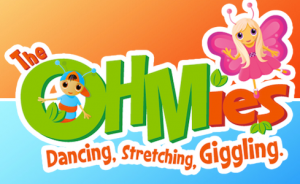 Looking for a great way to get your kids active while having fun? How about mix in a little bit of yoga and stretching as well? If so you definitely need to check out The Ohmies!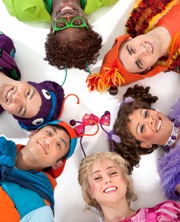 [Tweet "The Ohmies are an awesome children's group! They sing and dance and truly entertain! "]
Who are The Ohmies?
Here is a little description from their press release:
"THE OHMIES is a multi-platform "MOVEMENT Movement," a global initiative that fosters HEALTHY ACTIVE LIVING and aims to inspire a foundational change in the way preschool and early-elementary children and their families move through their daily lives. By encouraging positive healthy habits for life and engaging in early intervention strategies for reducing childhood obesity, THE OHMIES is positioned to be recognized for its ability to engage children and support parents and caregivers in raising happy, healthy, ACTIVE kids. THE OHMIES does it all through a proven combination of humor, music, compelling characters and adventurous narratives. Seamlessly integrating movement, nutrition, anti-sedentary behaviors and other healthy habits into THE OHMIES, and thereby incorporating these healthy behaviors into the natural progression of daily life, it is the creators' hope that THE OHMIES' HEALTHY ACTIVE LIVING messages intrinsically become seeded within the consciousness of children and parents everywhere."
The Ohmies website is pretty awesome as well! They even have a section where kids can get coloring pages and activities…Emalee has been begging me to print her out a few for days now! Guess I'm going to have to get that printer fixed sooner than planned 🙂
[Tweet "Curious about The Ohmies? Check this out!"]
After playing with Emalee for a little while with this CD I can honestly say that I would HIGHLY recommend it to others! I am even going to introduce Emalee's physical education teacher to them! I just can't get over how much fun this is!
I was even able to find some of The Ohmies on YouTube so that Emalee could see exactly what they wanted her to do. She had a blast just dancing to the music, but seemed to feel more confident in doing the "moves" once she saw the show.
[Tweet "A little birdie told me that "a TV series is in the works" for The Ohmies!"]
I CAN'T WAIT!! Emalee will love this! Ever since I showed her that they had videos online it is ALL she asks to watch…which totally rocks!
Be sure to check them out on:
TheOhmies.com     Facebook     Twitter     YouTube
If you visit TheOhmies.com and purchase their CD between now and September 24, 2013 you can get $2.00 off! 
Think it can't get any better? Guess again! There is a giveaway where not ONE not TWO but THREE people will win a free downlaod of the brand new CD The Ohmies: Morning Wish Garden!
[Tweet "@SouthernMes is hosting a giveaway featuring #dancing, stretching & giggling from @TheOhmies. Check it out!!"]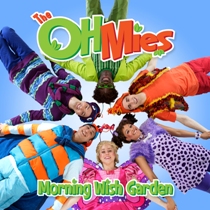 a Rafflecopter giveaway
Open to Legal Residents (18 years of age or older) of the US only. Prizes cannot be shipped to PO Boxes. Winner will be selected by punchtab.com/rafflecopter.com and be notified by email. Winner will have 48 hours to respond before a new winner is selected.
Please note that Southern Mess Moms is not responsible for sponsors that do not fulfill their prizes. I have represented each sponsor with the expectation they will fulfill their prize and in a timely manner. I will contact the sponsor regarding your prize(s). The sponsors, in most cases, are shipping their items to you directly. I will make every effort to assist you in obtaining your prize. If there is an issue with a sponsor, please notify the blog you won a prize from within 30 days for assistance, after that we may be unable to assist you.
The product provided for the review was free of charge from the company. The product offered for the giveaway is free of charge, no purchase necessary. My opinions are my own and were not influenced by any form of compensation. Facebook, Twitter and Google+ are in no way associated with this giveaway. By providing your information in this form, you are providing your information to me and me alone. I do not share or sell information and will use any information only for the purpose of contacting the winner.