Let's share those awesomely embarrassing, yet hilarious, stories of our adorable, devious, little guys and gals!
That's right…it's time for Mischievous Monday!!
Meet your Host
Southern Mess Moms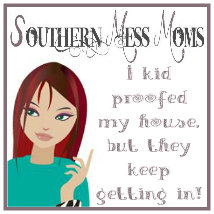 Sadly, we don't have any co-hosts this week…however if you are interested in co-hosting next weeks Mischievous Monday just click here!
Don't forget to grab a button!

I'm hoping that this weeks story will lead to an entire new page on Southern Mess Moms! I really want you guys to share your very own When Barbie Goes Bad with me!
Okay…so if you are a mom of a girl I'm sure you have a Barbie or two around your house…I'm not entirely sure if boys do the same with their GI Joes and action figures or not…
I can't explain it…I have no good explanation as to why…
but…
BARBIE IS ALWAYS NAKED IN MY HOUSE!!
Don't get me wrong, we have bought Emalee all sorts of clothes for her Barbies and she has a blast playing dress up!
However, for some unknown and let's be honest slightly creepy reason…when she is done playing Barbie is always nakie!
So anyways…on to my story!
I go into Ema and Anna's bathroom to go potty…while sitting there like I'm waiting on the freaking buss as my hubby (The Creepster) so kindly puts it  I happen to glance over at the sink…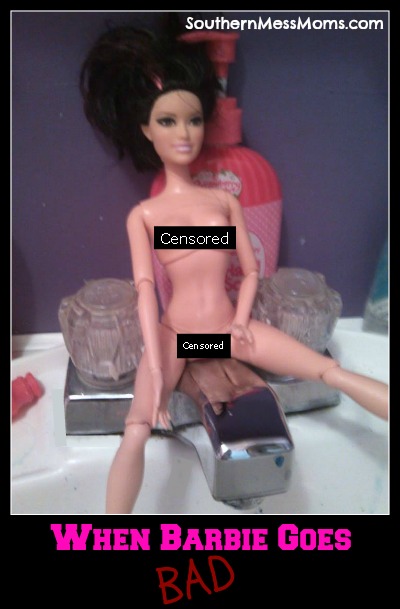 When I asked Ema about the Barbie on the sink…she said "She was helping me give the ponies a bath Mommy." and walked away like that was perfectly normal!!
So please comment below and tell me…or SHOW ME what compromising positions have you found your child's toys in? I chose to "censor" this image for those of you with virgin eyes…you are welcome!
Now it's your turn! Link up and share your stories…please! I need to know I'm not alone!
[inlinkz_linkup id=360772 mode=1 pageSize=300]