Hi, guys! Amanda and I have decided that we want to get healthy… which means holding ourselves accountable for how we live each day. We have both taken before pictures and measurements and have a plan to follow to reach our goals. Each week we will come back and put up a post with our newest numbers as well as an update on how well we followed our plan that week 🙂
If you have a fitbit and want to join us in our weekly step challenges just let us know!
Becca's Story, Stats, and Plan:
How I got where I am… well about 6 months ago I went to the gym to do zumba like always… came home with a tingle in my back. I woke up the next morning and could barely move, I was filled with excruciating pain. It took 2 months of me lying in bed, barely able to move, for me to hit a point that I was tired of fighting insurance with my family doctor and begged to go to the ER for some relief. While there, we found out that I had a massively ruptured disc in my lower back…
AND over achiever that I am when it ruptured it did it onto my sciatic nerve causing it to be severely pinched for 2 months straight. By this point I couldn't feel my legs, hadn't been able to walk on my own in weeks (my husband literally carried me to the bathroom) and was in so much pain I could barely think straight. I was depressed. I was honestly done and ready for the pain to end… no matter what it took to get there.
The ER gave me some pretty strong medicine that took the edge off for a few hours and referred me to a neurosurgeon the next day. I walked into their office and within 5 minutes of being in a room, the doctor tells me he is sending me to the closest hospital for emergency surgery.
After the surgery, he told me that it looked like a grenade had gone off in my back and he had no idea how I made it as long as I did. The discectomy took out the majority of my disc… and the doctor wasn't sure how much of the damage would heal and what would be permanent. I just hit my 3-month marker and, while I can feel my legs, my back is starting to hurt me more and more. The muscle spasms are back and the pain is shooting down my legs more and more often.
Now I am determined to get back to a healthy place mentally and physically… even if I have to walk myself there. I get that I won't ever be the person I was before… I'll probably never hit the gym 5 days a week and do whatever I want. Right now… I'll settle for just getting to a place where I feel fit and happy with what I see in the mirror. Let's lets all keep our fingers and toes crossed that my pain lessens and it's not the remaining part of my disc giving out… because that would mean a LOT of surgery and pain.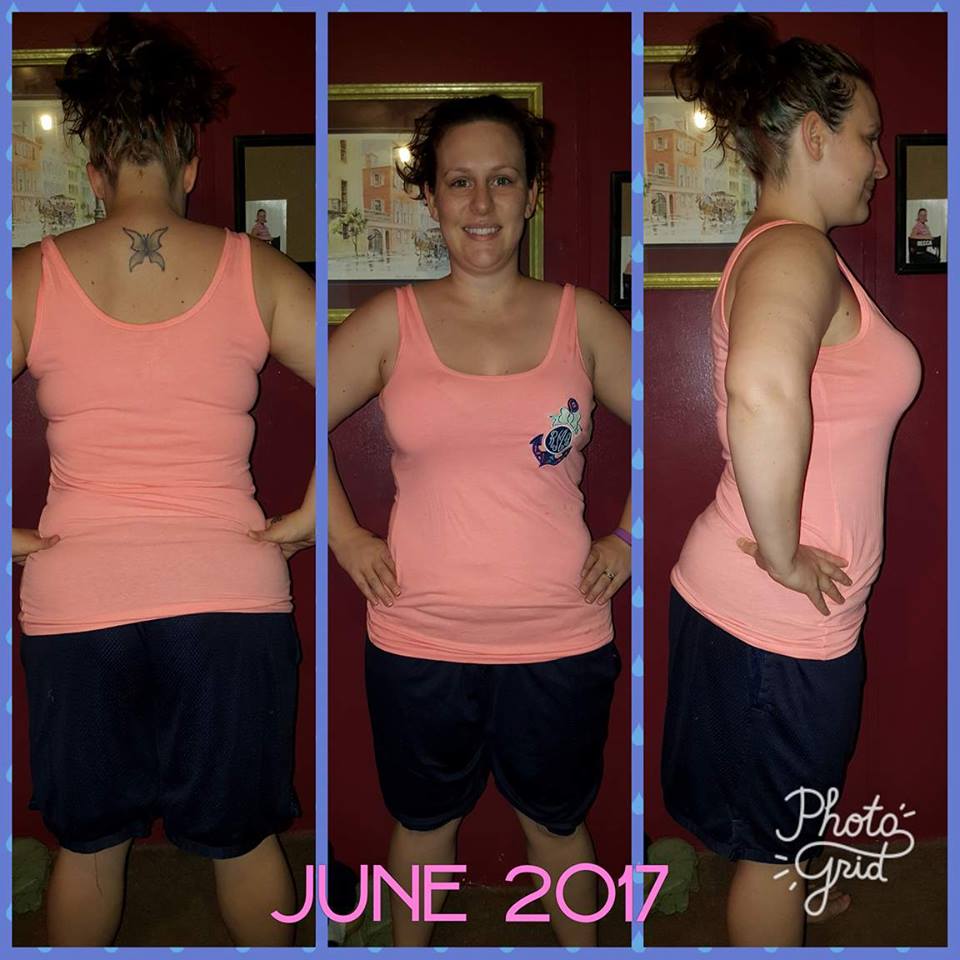 Measurements:
Chest – 40.5 inches              Belly Button – 37.5 inches
Hips/Butt – 44 inches          L Thigh – 23.5 inches
L Calf – 14.5 inches              L Upper Arm – 13.5 inches
Weight – 165lbs                   Pants Size – 14/16
My goal is to weigh around 135lbs and be in at least a size 10. I want to be and feel healthy. I want to be a good influence for my two girls and show them how to live healthy and love their self. In order to reach these goals I plan to start by:
Workout – Twice daily I will complete the Walk Away The Pounds video. Starting with the 1 mile for 1 week. Then the 2 mile for 1 week… etc.
I also plan to hit at least 8k steps a day every day.
Diet – I am cutting out sodas… it won't be easy for me but I'm doing it! I will cut back on sweets and carbs… but I'm not cutting them out.
Welp… that's it… that's my PLAN!
Amanda's Story, Stats, and Plan:
Little bit about how I got to where I am now: Before I got pregnant I was happy at 135 lbs. I was a size 0 (yes, I know, crazy right?) Then I got pregnant and the first trimester was terrible. I had really bad morning sickness to the point where I was losing weight instead of gaining. My doctor continued to tell me that I needed to gain weight, or I was going to lose my baby. Who doesn't listen to their doctor, right? So, I worked my ass off to gain weight in whatever way I could. It came down to the point where all I ate were Animal Style fries from In and Out (California Fast Food Place, for those that don't know). They are Fries smothered in cheese, Thousand Island dressing, and grilled onions. It was the only thing I could keep down. I was happy I started gaining, but the doctor told me I needed to gain more. Long story short, I gained over 80 pounds my first pregnancy and, if that wasn't bad enough, I was stuck on bed rest for a month because my water broke way too early. Which the doctor told me was my fault because I didn't eat enough. I thought you were only supposed to gain like 25-30 pounds?! My daughter was born via emergency c-section, which also hampered my getting back into shape. By that time, I just used to being lazy.
Then I got pregnant again almost 3 years later with my son. I got to be very large and uncomfortable and he was also born via c-section due to complications. Complications meaning he was stuck in the birth canal and it took them 20 minutes AFTER opening me up to even get him to budge. Stubborn from day one, that one. So, again, I was on bed rest to heal from the surgery and by the time that was done, I had ANOTHER surgery to get my tubes tied. Needless to say, after all those years, my motivation to get up and move is down to nothing.
Now, it's time to change all that. I'm tired of feeling so crappy about myself. It's time that I take charge and change my life for the better. So, Becca and I decided to go on this journey together and hold each other accountable for our daily progress.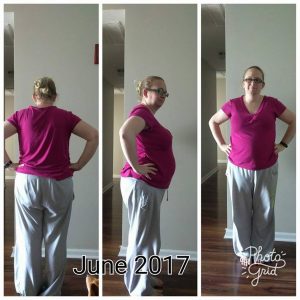 These are my before pictures. Yes they look horrible and they make me want to cry. But they also inspire me to do better. Also, here are my numbers for this week; (I tend to measure a lot more than most people)
Weight: 214.4 lbs
Neck: 14.5 inches
Chest: 46 inches
R. Arm: 13 inches
L. Arm: 13 inches
Waist: 43 inches
Tummy: 47 inches
Hips: 47 inches
Butt: 49 inches (Yikes! feel free to enter sir-mix-alot's song here)
R. Thigh: 22.5 inches
L. Thigh: 21.5 inches
While I know there is no way that I'll be able to get back to my pre-pregnancy weight, my goal is to be at 145-150. The nutritionist I spoke with said that would be a good place for me, considering my structure, my boobs, and my butt and what-not.
Plan: (Which I started on Monday, June 12th and so far so good!)
Drink more water (at least 90oz a day)
Work out at least 20 minutes a day
Reach my step goal of 7k a day
Eat healthier, smaller portions, and nothing after dinner (I'm an emotional eater, so this is tough for me)
NO SODA! NO EXCEPTIONS!
That's my plan, and I'm sticking to it! Check back in a week!