Today was a big milestone moment for me… I had my one-month post-op check up with the neurosurgeon and I was so damn nervous about what the results would be.
The last week or so I've had a little bit of pain and swelling as well as some bruising along my back that I have no idea where came from. I was so scared that I was going to go in and have the doctor tell me I was the 1 in 3 (Who am I kidding… it seems like I'm always the unlucky 1 in 3 if it's a possibility!) and was going to have to have the second surgery. While that's still a possibility of course… at the moment I am finally cleared… well, sort of.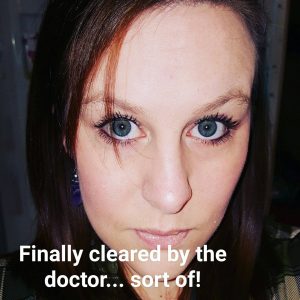 I can't do a ton and have to take it easy, but I am allowed to drive again (It's been over 3 months since I've driven myself anywhere!) and I can even start easing myself back into going to the gym. I'm only allowed to use the elliptical, treadmill, or stationary bike that has me sitting supported. On top of those cardio things, I can do very LIGHT arm work. I won't be able to do any core work until I hit the 3-month post-op mark… but I am so excited to finally be able to get parts of my life back.
Soon I will have a post up about my back issues and what all has happened and how it has changed my day to day life, so be on the lookout over the next week for that.
After the doctor's appointment, the hubs took Annaliese and I to Arby's to eat lunch and Anna made a super cute discovery…

Her hair matches her curly fries!
She then decided that she should have a new nickname… can you guess what it is? lol I love this crazy kid from the bottom of my heart.
Oh yeah,  in case you wanted a look at her hair when it isn't a hot frizzy mess…