So today, while playing with Emalee, I managed to hurt myself.
Go figure! Those of you that know me, know that I am quite the clutz!
Because of me managing to hurt myself while pretending to have a snow ball fight with a four year old…
MY HUSBAND HAS BANNED ME FROM PLAYING IN THE HOUSE!
My hand is pretty red, swollen and bruising fast! So I head to the cabinet to get some pain medicine and this is what I find…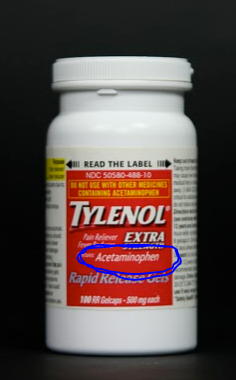 My poor hand…that I slammed into the counter 🙁
Tylenol…we ALL have some form of it in our house! Well most of us do anyways…
So anyways…I notice that Tylenol isn't really Tylenol. It's something else!
It's right there under the word Tylenol…what in the world is that?!?!
Have you ever tried to say this word?!?
What some of you may or may not know about me is that I am a huge gamer! My husband and I watch game reviews all the time. 
Cox 'n' Crendor
 are amazing and I hope you enjoy this video that fits right in with my post today!
Here are a few attempts at the word:
Ah ft no sen all….nope that's not right…
maybe….uhsee tah min uh fin
A see tomen o fen….still not right!
Uh see tuh min o fin
A SE toe MEN oh FEEN…..this is one weird word!!
assseat oh minnow fin
A set'o' mino fin
uh see tuh min uh fen….CLOSER!
Ah-seat-ah-min-o-fin…That's it!!
Why couldn't they just stick with Tylenol?