Pinterest:
According to wikipedia , "Pinterest is a pinboard-style photo-sharing website that allows users to create and manage theme-based image collections. Users can browse other pinboards for images, "re-pin" images to their own pinboards, or "like" photos."
Pinterest was created by a group of three people, Ben Silbermann, Paul Sciarra, and Evan Sharp. I have, until this point, considered them my "pimps" or "drug dealers". I suppose Cold Brew Labs, who manages it, probably should be included in there somewhere! They play just as big a part as the others in my new found profession and addiction.

Please note: this post is meant AS A JOKE! If you don't have a sense of humor…DO NOT continue reading!

If you are reading this then you clearly have a love of Pinterest! Be sure to check out and join the
Pinterest blog hop
!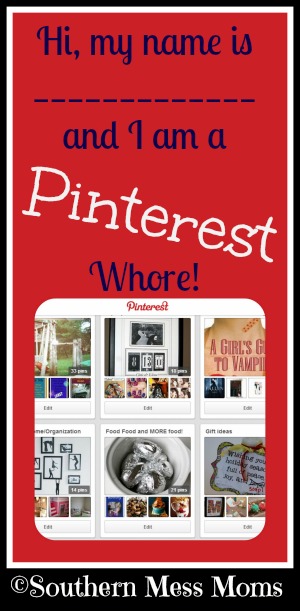 Pin It 🙂
Yep, you read that right. No need to go back and look again. I, Becca, am a Pinterest whore!
Not an addict…a whore!
There is a difference here people! Do I need to explain it?
I think I do.
Someone that is addicted to Pinterest spends a lot of time pinning and re-pinning things, going through other people's boards, possibly even critiquing their organizational skills. Whatever you do…do not check out my organizational skills until after this weekend! They SUCK! 

First, I need to explain where my Pinterest addiction started….then I can go into the difference between simply being addicted to it and becoming a whore.



Let's just say that I started out on Pinterest a while back.
I thought, "Awe, how cute! A place where I can look at a variety of images and store them for later when I have time to actually figure out if it's worth doing or not."
To begin with, I didn't really spend that much time on Pinterest. I just went every now and then and scoped out something specific I was looking for. Slowly, but surely, I started spending more and more time on it.
Of course, as with any addiction, I only saw the positives. I didn't notice when I started to:
Spend hours instead of minutes staring at boards and re-pinning.
Say, "Why didn't I think of that" more than is any where near acceptable in one day.
Wonder what it would look like if I, too, replaced my lamp shades with mason jars.
Compare things in the store to things I had pinned as a DIY project.
Find myself taking pictures of things while out, not because I needed it, but because it was PERFECT for my board.
Have friends and family ask me if I found how to make/cook something on Pinterest.
Spend more money on crafting supplies than my budget could ever allow.
Organize and re-organize my boards over and over again to get them just right.
Buy a product just to get the "trash" from it for a certain recycle project.
Say "I can totally do that" and then feel bad when..no…no I can't
This list could go on and on…but you get my point.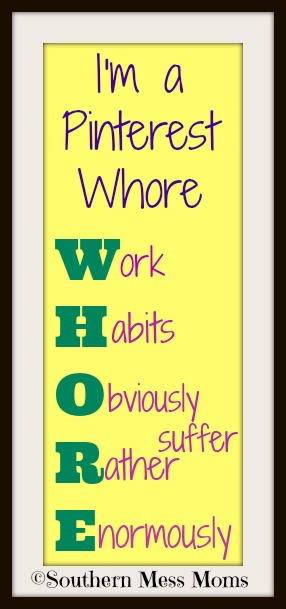 So I was officially addicted to Pinterest! What is sad is that my addiction isn't, and has never been, nearly as bad as a lot of people out there. This often makes me feel proud of myself 🙂
I'm only slightly addicted!
So now I'm sure you are wondering…
What is the difference in a Pinterest addict and a Pinterest whore.
Well, my dear readers, as a Pinterest whore I am willing to do a lot of things I am not proud of:
In order to procure more funds for my addiction, I have gone so far as to have a "fun" night with my husband…that's right ladies! I sold myself…he so didn't know it was happening. I never said, "I'll  do this if you buy me this"…oh no…it is much more subtle than that. I would be sure to make him extra happy and then during the after/cuddle period I would sweetly ask for one small thing that I so desperately needed for this project. It won't cost much, I promise!
I stalk my friends boards and Facebook pages searching for new ideas. This may sound similar to an addiction. However, the difference is in what happens next…I beg, borrow, plead, work for, trade, etc. in order to get friends help in completing these ideas. I'm amazed some of my friends even answer the phone at this point!
Now that I am using my Pinterest boards to promote my blog a bit, I am even more of a whore!

I pin my posts on several boards in the hopes that someone will take notice of how beautiful they look and click. Monogamy is not a word I know anymore!
I spend hours focusing on images using picmonkey and picasa to create awesome Pinterest pictures for each of my posts. Looks are very important…I have to be able to catch someones eye if I want them to come my way!
I ask friends to check out my pins…in hopes that they will re-pin them so their friends can see. I am trying to get my friends to pimp for me!
I turned on the option to share my pins to my facebook and twitter pages. I am willing to let everyone see how low I have sunk…and don't care!
I join Pinterest blog hops (something new!) to get EVEN more people to see my pins. I am willing to participate in group sessions!
I know what your thinking. That doesn't sound all that bad! Okay, so maybe a few of them sound pretty bad (Note: not all of these came from me…some of them are things I have caught friends doing…I'll leave it up to you to figure out which are mine and which aren't)
I simply LOVE Pinterest! I love the idea of it all. Sharing images that link back to your website! The simplicity of it! It is just too easy to become addicted to!
Now that you know I am a Pinterest Whore, I should get to the point of my post! Yes I do actually have a point! I am looking for a NEW Pinterest Pimp!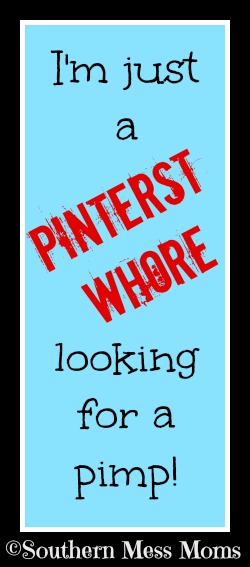 If you feel that you are qualified to fill this position please read below for the qualifications! Please note this is not a paying position…unless you count the joy you will receive by promoting me. 
Qualifications to be a Pinterest Pimp:
Are willing to share your friends with me.
Have, use, and be willing to promote me on many forms of social media.
Understand the inner workings of Pinterest (i.e. how to pin and re-pin things from my blog).
Have no shame and are not easily embarrassed.
Have a good Pimp hand (or slogan if you aren't willing to beat people into reading my blog).
Please comment below and share the meanings of a Pinterest Whore that come to your mind!
Oh, also comment if you would like to apply for the awesome position of un-paid Pinterest Pimp…or if you are also in the market for a pimp, maybe we can work together!
I can't wait to get me some more comment cake!!
**Due to a friend or two mentioning that they were unfamiliar with how to use Pinterest with their blog, I will be doing a post in a moment with a few pictures on how I use it! Be sure to check it out!