I was given the awesome opportunity to do a review of FunBites!

For those of you that aren't familiar with FunBites, they are these awesome little things that easily cut food into cute little shapes. Who doesn't love shaped food right?!?
When I first heard of this product I was super excited to get my hands on it. We have used a large variety of cutters over the past four years and Emalee absolutely loves them all. I know some of you remember my post about a Mess Free PB&J!
There are several options when it comes to picking out your FunBites cutter you can get hearts, squares, or triangles.
I decided to go with the hearts. I thought that Emalee would enjoy it the most =)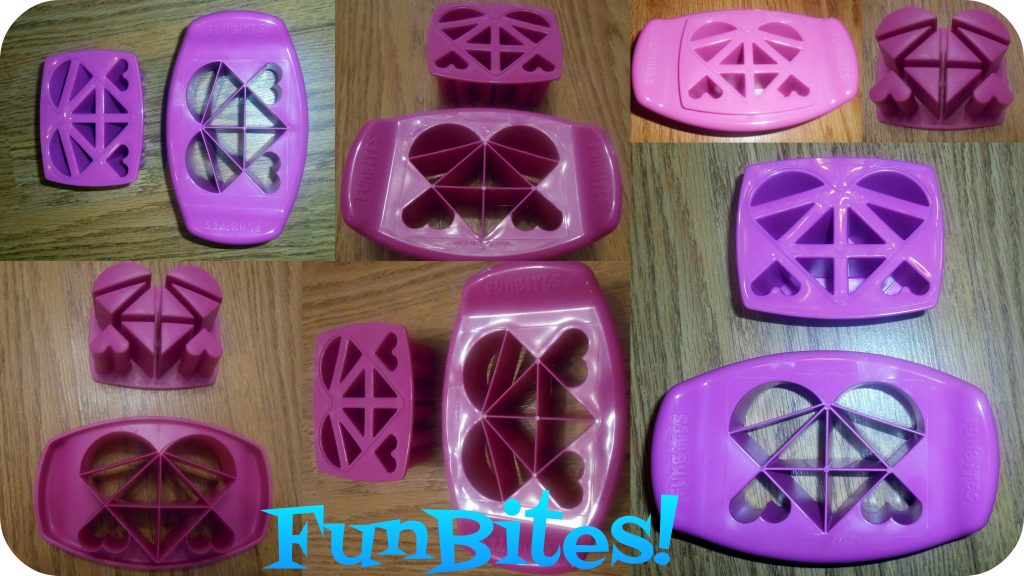 One of my absolute FAVORITE features of this product is that it comes with a part to push the food back out. So maybe I don't know the technical term …but how many times have you used one of those cutter thingies and then had to use a finger or fork or god only knows what else to poke the food back out of it???  Okay..maybe that's just me!
Anyways…where was I? Oh yeah…what I like about FunBites!
The first thing I decided to try FunBites on was a PB&J because it is Emalee's favorite type of sandwich. Here is what happened: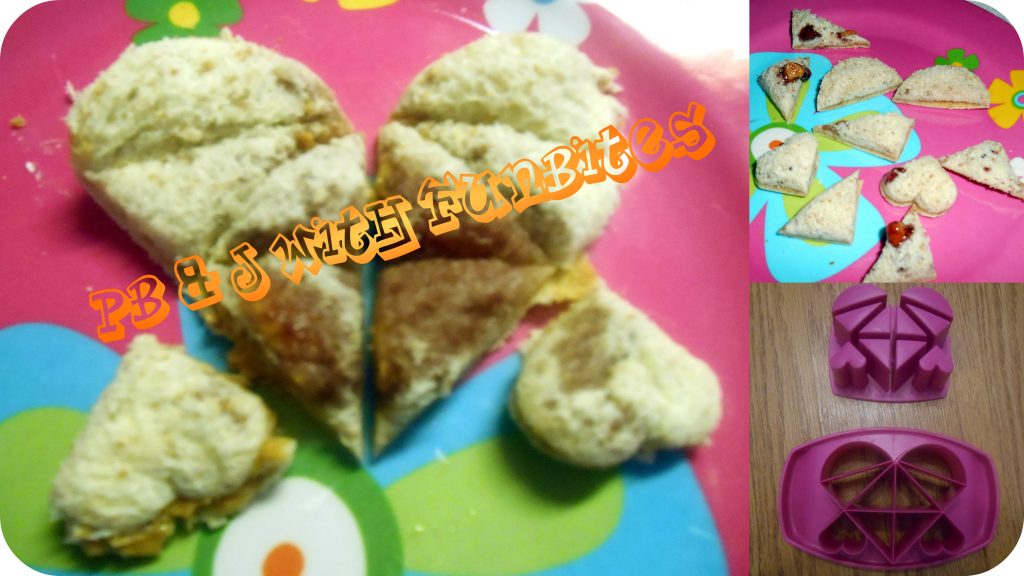 Umm…honestly? Not the best results in the world! The PB&J kind of ooozed out…that's totally not supposed to happen!
I have to admit that I was a bit disappointed at this point. I will definitely stick with using my sandwich sealer for this kind of thing.
I think that choosing the hearts may have been a bad decision, I think the squares or triangles would have been better. You can tell by looking at it and the "sandwich" that there was a decent amount of wasted bread. I totally could be spoiled by the cutter I have been using that literally just cuts off the crust.
Moving on to the next test!
FunBites with pancakes!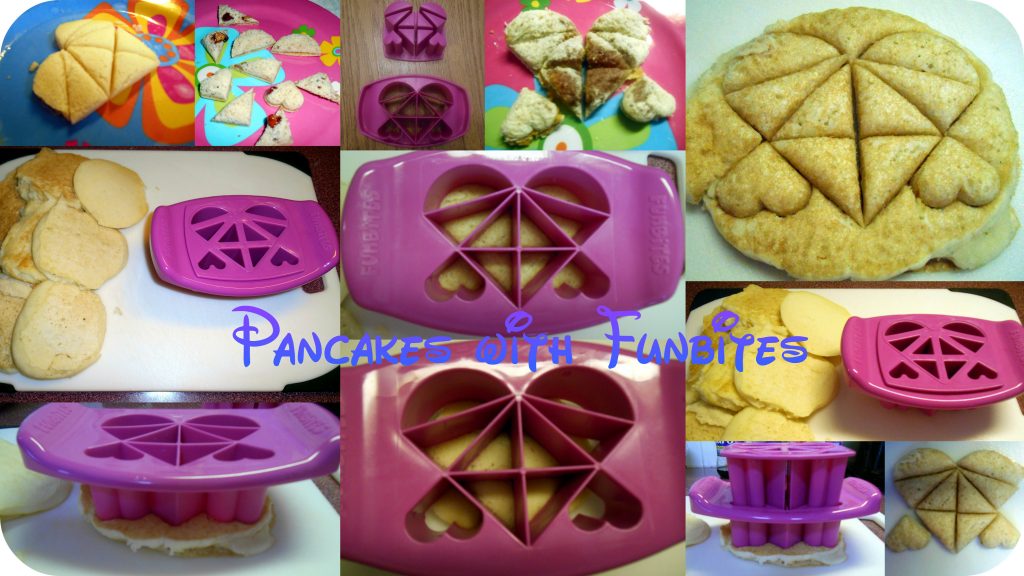 This was a much better result! I made sure that the pancakes were rather small so that I did not have to waste a lot food.
IT WAS AWESOME! The pancakes cut easily (It's best to do it on a flat surface like a cutting board because the FunBites cutter is actually curved.) and Ema had a blast eating her heart shaped pancakes.
I will admit that I would not do this every time I made pancakes…it took a while! Ema got impatient about half way through and took what I had done lol she came back for more when the first plate was empty.
Lastly, I decided to try out my FunBites on watermelon!!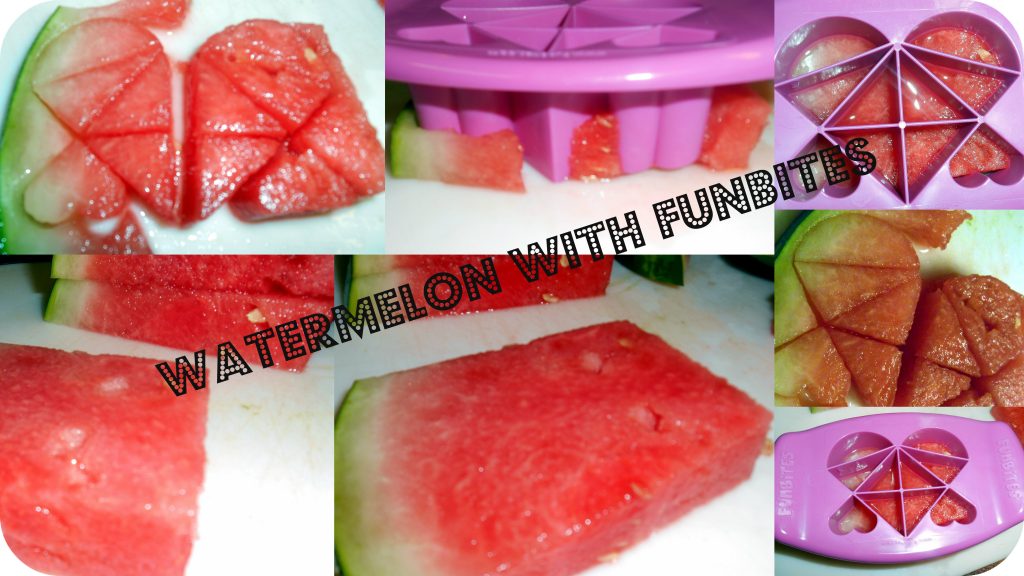 This (while juicy and utterly messy) was totally 100% AMAZING!
I love Ema loves watermelon and immensely adored heart shaped fruit! I have done this a few times since taking these pictures and it makes for an adorable little fruit salad. I promise I even let Ema try some of the watermelon once!
Overall, I would recommend FunBites and plan to continue using it! I hope to add to this review as I test it out on different food types and ideas that randomly pop into my head….yeah I would be scared too!
Be sure to check out their awesome website and pick up one or three!
Have you used FunBites? What would you use it on?
Products mentioned in this post: