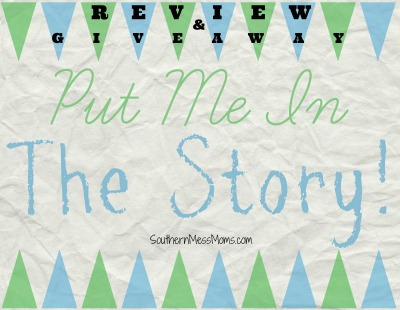 Oh my gosh guys!Finding GOOD books for kids can be difficult…especially ones they want to read! Have you heard of these personalized books for kids from Put Me In The Story???
I was contacted by their amazing customer service people and given the chance to do a review and guess what….A GIVEAWAY!!! These would make totally awesome personalized gifts for kids!
That's right! You guys get a chance to get one too!! How totally awesome!
These are "Best selling books starring your child"!
We love books! We read daily and try to get in a bed time story most nights sadly some nights Emalee ends up passing out too quickly!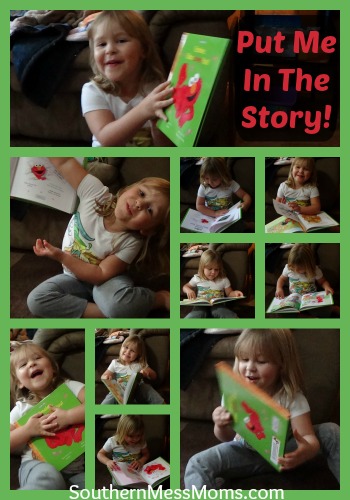 Guys…Emalee and I are absolutely IN LOVE with this book!! if you can't tell from the pictures lol you cannot beat put me in the story personalized books for kids! I can't believe I hadn't gotten one before now!!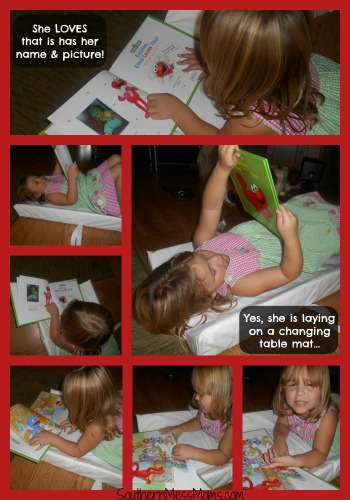 What is absolutely 100% totally rocking about Put Me In The Story is that you get to see the ENTIRE book online with your child's name BEFORE you purchase!
You will literally know exactly what your book is going to look like…no surprises 🙂
The book even has a picture in the dedication…how cool is that!
Emalee and I sat down at the computer, chose her book (this is the only company I have found that has a few books with characters that kids recognize), chose a picture to go in the dedication, read through the book to make sure she was happy with it, and placed our order all in about 10 to 15 minutes. Most of that time was spent deciding on a book and then reading it OVER AND OVER AND OVER AGAIN before she let me press purchase!
Emalee is a huge book lover and honestly will read just about anything…however, I have NEVER seen her react to a book the way she did to this one! Just look at this video and tell me this child isn't in love:
See what I mean! I can tell you that we have read this book hundreds of times in the short period we have had it. She adores it! The fact that Elmo is talking to her just thrills her! The company even goes so far as to put her name on the little details in the book as well. For example: her name is in the thought bubble and on the valentines card!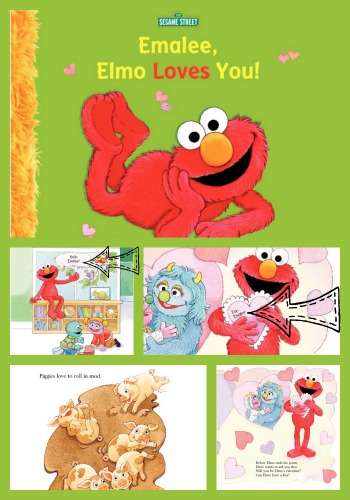 Notice how BEAUTIFUL the illustrations are and how kid friendly the story/poem is! It is easy enough that after a few times reading it, Emalee is able to read most of it and she is only 4!
I totally 100% recommend this company to anyone! It makes for an awesome gift for kids and definitely gets them interested in reading!
Which of their books would you pick if you win?
Check them out on:
PutMeInTheStory.com     Facebook     Twitter     YouTube     Pinterest
Open to Legal Residents (18 years of age or older) of the US only. Prizes cannot be shipped to PO Boxes. Winner will be selected by punchtab.com and be notified by email. Winner will have 48 hours to respond before a new winner is selected.
Please note that Southern Mess Moms is not responsible for sponsors that do not fulfill their prizes. I have represented each sponsor with the expectation they will fulfill their prize and in a timely manner. I will contact the sponsor regarding your prize(s). The sponsors, in most cases, are shipping their items to you directly. I will make every effort to assist you in obtaining your prize. If there is an issue with a sponsor, please notify the blog you won a prize from within 30 days for assistance, after that we may be unable to assist you.
The product provided for the review was free of charge from the company. The product offered for the giveaway is free of charge, no purchase necessary. My opinions are my own and were not influenced by any form of compensation. Facebook, Twitter and Google+ are in no way associated with this giveaway. By providing your information in this form, you are providing your information to me and me alone. I do not share or sell information and will use any information only for the purpose of contacting the winner.