Disclaimer: I was given the products in this post for the purpose of a review. I was not paid in any way to write this review. All opinions are my own.  This post may contain affiliate links that I receive commission or payment from in exchange for referrals. SouthernMessMoms is a participant in the Amazon Services LLC Associates Program, an affiliate advertising program designed to provide a means for sites to earn advertising fees by advertising and linking to Amazon.com.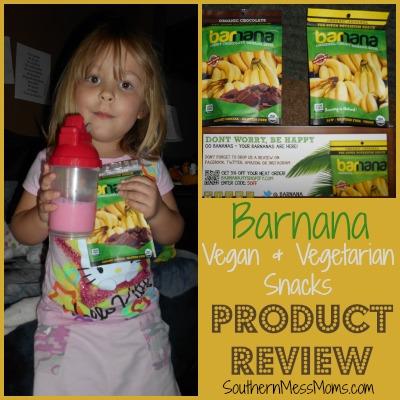 Barnana is a 100% Vegetarian product (the original is even Vegan friendly!!)
What attracted me to this product is that for once it is a product that is what it says it is:
Dehydrated Bananas and chocolate! That is it!
How awesome right?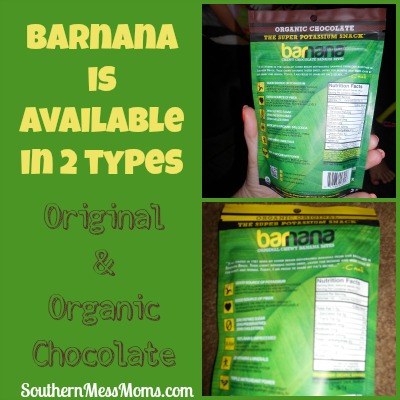 Well, sadly Barnana is not available ANYWHERE near me (I live in the boonies in the south) so they had to ship them pretty far. They have these awesome cool packs that are supposed to keep the food fresh and safe to eat…sadly something went wrong the first time we tried shipping them.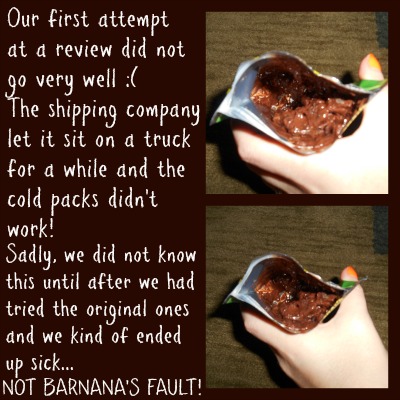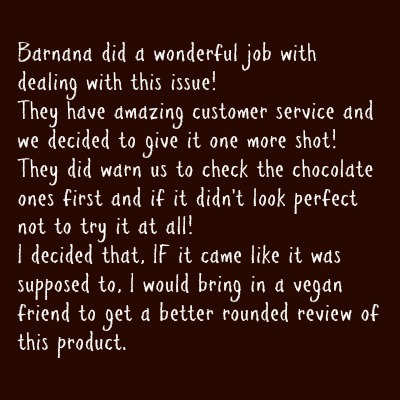 The second attempt at shipping went much better. The shipping company still didn't do as well as I would have preferred and the cold pack wasn't cold anymore when we got it. However, everything looked like it was supposed to and was safe to eat. Yay!
Sadly…after getting sick last time my daughter refused to try them this time…she is just too young to understand that it wouldn't do the same thing this time. Oh well, I tried them again!
I have to admit that it wasn't my favorite thing in the world. My hubby and I dehydrate bananas all the time and we all love them as a snack. The problem is that we are used to them being crunchy/crisp…not chewy like the Barnana is. Because of this I decided to get a Vegan friend to give it a try and see what she thought!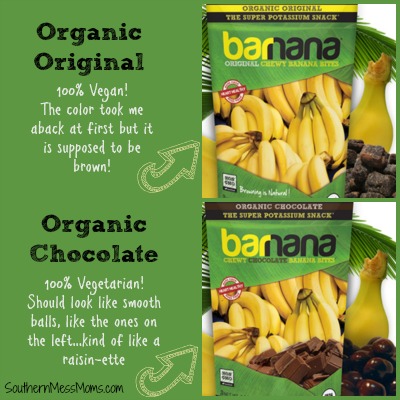 Here is what she had to say:
"Okay so I tried the Barnana and had some office mates and family try the chocolate covered Barnanas. I really enjoyed the dehydrated bananas. It's rare that you find the chewy kind instead of the hard banana chips. The banana taste was fairly strong so you'd really have to like bananas to buy this.
I would definitely buy this often if I found it locally. My plan is to add it to a trail mix with cashews and vegan chocolate. It would also be great for baking granola bars.
I heard the chocolate was very good but I'm sure it would taste better to people that enjoyed dehydrated bananas. Both seemed to be something uncommon around here or uneaten by the crowd i gave it to.
All in all I give it 7 out of 10 for dehydrated fruit and a 9 out of 10 for dehydrated bananas. Packaging is the perfect size, vegan friendly, and attractive. I enjoyed it…Thanks for the free snack!!!!"
Well there you have it guys! Barnana seems to be a hit with a Vegan and iffy for those of us not quite used to this type of thing. I hope you enjoyed the review and will give them a shot..especially if they are in a store near you!
You can check them out on:
Barnana.com     Facebook     Twitter     Pinterest     Google+     Email