Disclaimer: This post may contain affiliate links that I receive commission or payment from in exchange for referrals. SouthernMessMoms is a participant in the Amazon Services LLC Associates Program, an affiliate advertising program designed to provide a means for sites to earn advertising fees by advertising and linking to Amazon.com.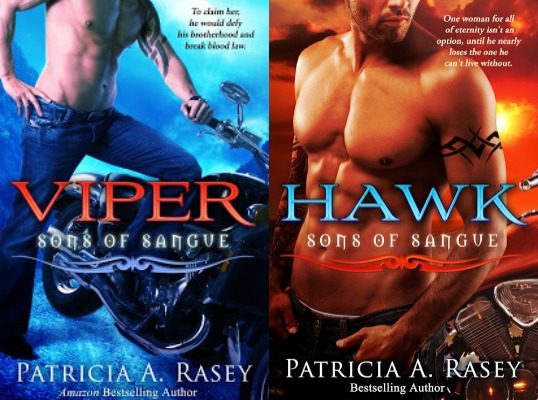 Author: Patricia A. Rasey
Website: PatriciaRasey.com
Genre: Paranormal Romance
Books currently in series: 2

The Sons of Sangue are a biker gang with a twist…they are vampires! This series give an interesting twist to a well used genre: you have donors, rival gangs, crazy ass primordials (you will figure out what these are if you read it!), action, humor and some extremely, sinfully SEXY men! All topped off and tied together by some pretty amazing romance! This series is a definite MUST read!
Check out my full review of each!
Viper                      Hawk


~Patricia A. Rasey~
Describe your book/series in 15 words or less!
Vampire bikers. Romance with attitude. Descendants of Vlad. A new twist on Paranormal romance.
When did you start writing? How did you come up with your books name?
I started writing in high school—which seems now like ions ago. But I didn't seriously start writing until about twenty-one years ago. I haven't stopped since. It did take about 5 years to see my first book published with a small press. My book titles? Not sure. I suppose it's always different. Most times I have it at the start of the book, sometimes after I've begun writing it. Kane and Kaleb's names came to me first—then I sought biker names and with both of them—a predator seemed fitting.
What is something about yourself that most of your readers don't know?
I have a big heart. I will do anything for anyone when at all possible and I try to please everyone. So it's very easy to hurt my feelings in return. You try to develop a backbone in this world of writing because you know it's subjective, and you know not everyone will love what you do. But still, words hurt. So I try not to always read my reviews. Especially the bad ones. If I do—I can't write for days because I start doubting myself.
How do you spend your time when you aren't writing?
I have a day job, so I work pretty much 9-5 and some odd hours as well. So my writing fits in during the evenings and weekends. I also try to fit family time in there. We like to camp and boat during the summer. So sometimes—it's very hard to find time to fit in the writing. I remain very busy most times.
What do you find most challenging about being an author?
I do try to please everyone. So I truly want my readers to know that I care for each and every one of them.  It's for them that I write. So each new book I write—I do worry that they may not like it as good as the previous, even though I try my hardest. I work long hours on my book. All I can hope is that the reader will like the new book and identify with the characters. So when I release a new book—it's a nail biter for me to see how readers will react.
What do you find most rewarding about being an author?
An email from a fan telling me they liked my book or my work. Not even the royalties is as rewarding.
What book are you most proud of so far?
I think it's my latest book, Hawk, from the Sons of Sangue series. I definitely think it's my best written book. And Hawk was really a jerk in the first book. So it was hard bringing him around. And in the end—he melted my heart.
What are two of your favorite books/series?
My fav is Lara Adrian's Midnight Breed series. She's a stellar writer. I love her work. I also love a lot of Lori Foster's series. I'm reading the Love Under Cover series right now. And Gina Maxwell has an awesome MMA series.
OOO I have to agree here! I ADORE the Midnight Breed series! It is one of my favs as well! I am currently working on my reviews of the series…there are a ton of them to get done!
Was there a music playlist for you while writing? If so can you share a few songs from it?
I've always been an avid music fan. My last book, Hawk, I wrote listening to David Garrett's two music CDs: Music and Rock Symphonies. Those two albums carried me through the writing of that book.
Ask me one question…any question at all and I have to answer it no matter what!
Oooh…I get to ask you one? Hmmm…who is your favorite actor and why?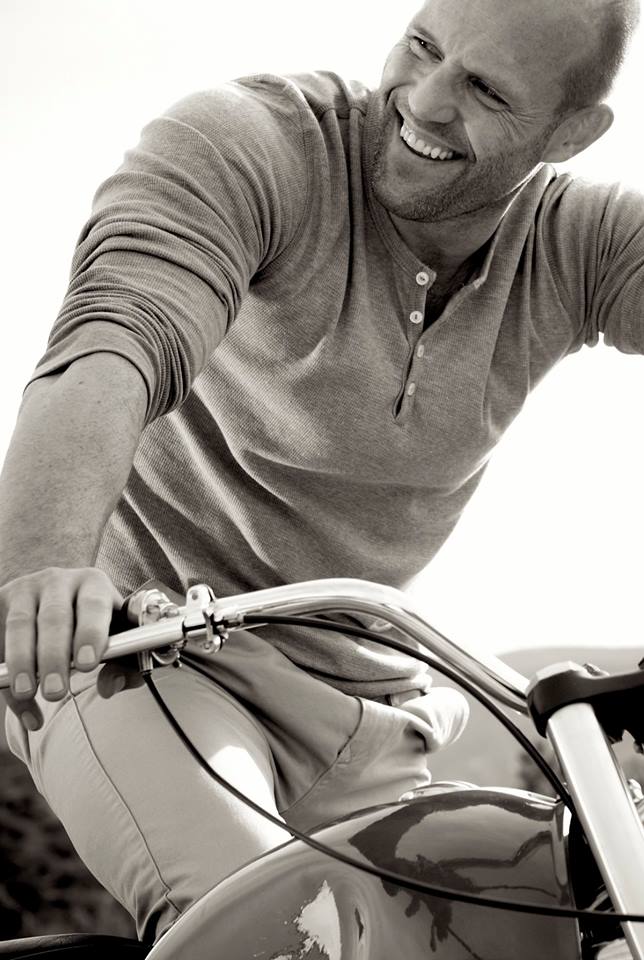 Hehe okay…so my favorite actor…it's actually an easy one for me to answer! Jason Statham 100% I can't explain it…but that man is just SEXY TO ME! I mean like totally! I have a major thing for him!  I mean come on…who doesn't tink that man on a motorcycle is sexy…heck he is sexy no matter what he is on or doing hahaha
If you could have any one toy what would it be? Why?
Haunted Beauty Vampire Barbie. Because it's stunning. They are sold out—and I'd have to get it on eBay. But it's quite pricey.
If you could have one super power what would it be?
To fly.
What would I find in your refrigerator right now?
Fruit. I love all kinds of fruit.
If your book/series was a dessert, what would it be and why?
Wow…Sons of Sangue as a dessert? Something sinfully delicious. I would have to say Molten Lava Cake. Once you slice into it, then the warm sinfully goodness oozes out.
Hahaha that is an awesome answer! I love it…I have to admit that I would love the chance to get that sinfully warm goodness to ooze out of pretty much any of those males in the Sons series! Haha wait that sounded really dirty didn't it? lol
What do you think about when you are alone in your car?
My books or my family. Both are very important to me.
What song best describes you? Why?
I believe by Christina Perri. I love her music. Tomorrow is always a new beginning if you have faith.


A daydreamer at heart, Patricia A. Rasey, resides in her native town in Northwest Ohio with her husband, Mark, and her lovable Cavalier King Charles Spaniel, Todd.
Ms. Rasey is a three-time recipient of the Word Weaving Award for Literary Excellence and a three-time winner of the prestigious RIO Award Of Excellence. She is also a three-time EPPIE finalist and was a 2001 nominee for Romantic Times Magazine's Best Electronic Book. Additionally, Twilight Obsessions and Twilight Visions, two anthologies she was a part of, was nominated for the PEARL, the Paranormal Excellence Award in Romantic Literature, in the Best Anthology category. Her short story, In The Mind of Darkness won the P&E 2002 Horror short story category.
When not behind her computer, you can find Patricia working, reading, watching movies or MMA. She also enjoys spending her free time at the river camping with her husband and two sons. Ms. Rasey is currently a third degree Black Belt in American Freestyle Karate.