Disclaimer: This post may contain affiliate links that I receive commission or payment from in exchange for referrals. SouthernMessMoms is a participant in the Amazon Services LLC Associates Program, an affiliate advertising program designed to provide a means for sites to earn advertising fees by advertising and linking to Amazon.com.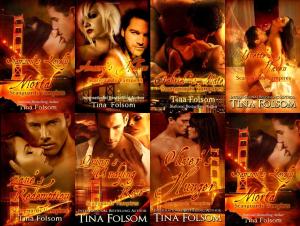 Author: Tina Folsom
Website: Tinawritesromance.com & Tina Folsom Blog
Genre: Paranormal romance
Books in series: 9

The Scanguards Vampires series is hilarious, heart warming, erotic, and addicting all at the same time! Each book focuses on a different member of Scanguard's security and how they find and fall in love with the perfect person for them. With each book that I read I get more and more attached to ALL of the characters. I love that main characters from past books pop up in the new ones so that we can see how their relationships are going. I hope she writes more in this series! I simply adore reading each story and wondering what kind of person can lead each one, flawed and messed up in their own interesting and unique ways, to redemption and happiness!
One thing I love about +Tina Folsom's books is that in each and every story the characters are engaging, deep, and the plot never slows down or lags yet somehow stays at just the right pace for the reader to become not only a bystander but a part of the story. I definitely recommend this series to everyone who enjoys paranormal romance!
Samson's Lovely Mortal     Amaury's Hellion     Gabriel's Mate     Yvette's Have     Zane's Redemption     Quinn's Undying Rose     Oliver's Hunger   Thomas's Choice     Cain's Identity
I will be reading and reviewing the rest of the series very soon!