Disclaimer: This post may contain affiliate links that I receive commission or payment from in exchange for referrals. SouthernMessMoms is a participant in the Amazon Services LLC Associates Program, an affiliate advertising program designed to provide a means for sites to earn advertising fees by advertising and linking to Amazon.com.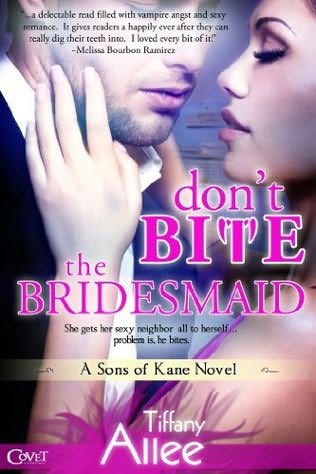 Author: Tiffany Allee
Website: Tiffanyallee.com
Genre: Paranormal romance
Books in series: 1 (more to come)
Book Length- 158 pages
Main Characters- Alice Shepard and Noah Thorpe
Synopsis-
The Sons of Kane series starts with Alice, who is super nervous about having to attend her sister's cruise boat wedding because her awful ex-fiance will not only be there…he will be the best man!! To top things off he is bringing his NEW fiance! Alice showing up alone is simply not an option! So after a few drinks she decides that she is going to ask her hunky neighbor to go as her date.
Noah needs a way to get out of town for a few days while his friends try to get him out of a bad situation. When his pretty neighbor asks him to go on a cruise he doesn't think it is a good idea…even though the timing is perfect. He tries to come up with reasonable excuses as to why he can't go, but his friend Charles isn't having it.
Against his will and better judgement Noah ends up on a cruise ship filled with humans for a week! During the trip he and Alice both must struggle with their attraction to one another…I wonder who will give in first?
Review-


I can honestly say that I read this book in a straight 4 hour period. It's not that it is short…it's just that it was so good that once I was in the story line I simply couldn't make myself leave!! The writing style made me feel like I was going through each and every moment of the story with the characters. I enjoyed that it switched perspectives so that you got a good feel for each character. The author did an amazing job making me want to read more in this series. I will definitely be looking at her website regularly to see if she has a new book yet. She gave just enough information about characters that I am anxious to find out what happens with Charles and Alex, Noah's brothers, and Andrew, Alice's brother. I feel like she left a big opening for herself to write at least three more books in this series. I know I certainly want more information on Andrew and Olivia….I sure hope she doesn't leave it at what was discussed in this book.
Although there were some small issues with the book, none were enough to make me stop reading or make me not recommend it to friends and family. There were humorous moments, intense moments, and some pretty exciting and erotic moments as well. This book was simply delicious and I can't wait to dig into more of her work!