Let me start by saying that Emalee has a lot of good activities that she does during the day. She plays creatively, she creates tings, she draws, she chooses to work in her workbook, she plays outside, she does a lot of good productive things.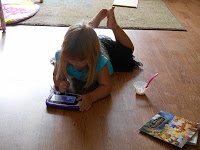 Playing on her Leap Pad
However, as soon as she woke up this morning she decided that she wanted to play on her computer.
When we got a new desktop we decided to give her our old one so that she wouldn't bug us to use the computer. Hers is only loaded with certain things and does not have access to the internet.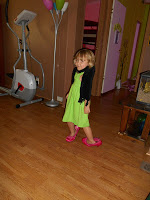 Playing Dress-up
Her playing on the computer doesn't normally make me feel like a failure. She has games such as Tux typing, Tux paint, Diego Dinosaurs….clearly educational games right?
Yeah…well..umm…yesterday I had another one of those
Bad Mom
moments!
I added quite a few pictures of Ema doing GOOD things because I feel like such a bad mom right now and needed to show myself that I do help her do good things too! lol
Ema came up to me while Anna was crying and had been crying for going on an hour straight. I was near the edge of my sanity! I didn't know what was wrong with her or how to fix it…
Now that you have a feel for my mood and mind set:
"Mommy, I want a new game on my computer!"
Okay…so let me explain the green circle.
We don't have a net…she is allowed
to jump in the green circle only!
Redneck, I know
"Ema, sweetie, we don't have anymore games for your computer right now."
"So, I want a new one. You can find one on your computer."
Writing her ABC's by singing them.
Sometimes she is way too smart for MY own good!
"Well, let me deal with your sister and I will look. Okay?"
"Okay…" (goes back to playing)
15 minutes later
"Mommy, I'll watch Anna and make her happy…you go find me a game!"
"Your kidding right?"
"Nope! I got this!"
I put Anna in her swing, hoping it will work because I so need a bathroom break!
After relieving myself, I decide to sit down and look for games for Ema. Anna is quiet so Ema joins me…
"Oh…oh..oh! Mommy I want that one! Please, please, please! I want Angry Birds!"
"sigh"
So I'm willing to admit that Ema has played Angry Birds on our phones and Daddy's tablet a few times. She is actually pretty good at it! When your in a car for a long period of time it is amazing the things you break down and let your kids do. Well…Angry Birds was my break down moment yesterday.
"Okay, fine. You can have Angry Birds so long as you behave and help mommy when she asks."
"Deal!"
She is now 8 levels in and has decided that she HAS to get not 2 but 3 stars on all levels!! She won't let me help her because …
"Mommy, you aren't very good at Angry Birds."
Today's meaning of Parenting F.A.I.L.
Finally
Able to
Inhale and
 Laugh!