Emalee absolutely loves to read! She always has, even before she was starting to learn what all those funky shapes and symbol things were on the pages.
She used to look at the pictures and tell the stories, now she tries to figure out a few words first and then make up what is happening!
Reading is such an important thing to do with children. I started reading with both of my girls while I was pregnant with them, and have continued to read to them daily at bed time, as well as throughout the day if I have the chance.
I think it is important to be a good role model and make sure that my kids see me reading all of the time. Even if it is on my Kindle more than not!

For Christmas this year, Ema asked for new books. How totally awesome is that?!? While looking around Amazon, I ran across this really neat book: Just Like My Mommy by Agnese Baruzzi & IKids.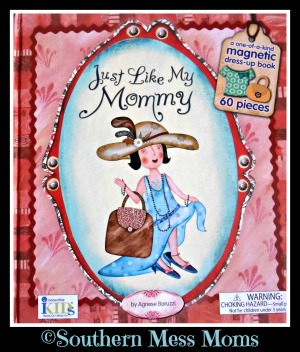 Amazon's Book Description:
"Sophistication meets imagination in this elegant new picture book by award-winning artist Agnese Baruzzi. The intricate collage-style illustrations and sentimental story are perfect for mothers and daughters to share, and little girls will enjoy endless hours of fun with the magnetic dress-up page.
Every little girl dreams of growing up to be just like her mommy! After all, mommy is smart, pretty and great at so many things. Little girls will have hours of fun pretending to dress up with a magnetic play scene a drawer filled with hundreds of different possible outfit combinations."
Our Review:

From the moment Ema opened this gift she refused to put it down! She is a little fashionista in the making and absolutely adores anything that allows her to dress people up. She even uses her baby sister as a living baby doll a lot now!
Once the excitement of Christmas calmed down a bit, Ema asked if we could sit down and read her book. It is a medium length book with 20 pages and is easy read. The words are repetitive, which is a GREAT thing for a beginners book. Although 20 pages may seem like quite a bit for a 4 to 5 year old to read, the way this book is written makes it super easy and exciting!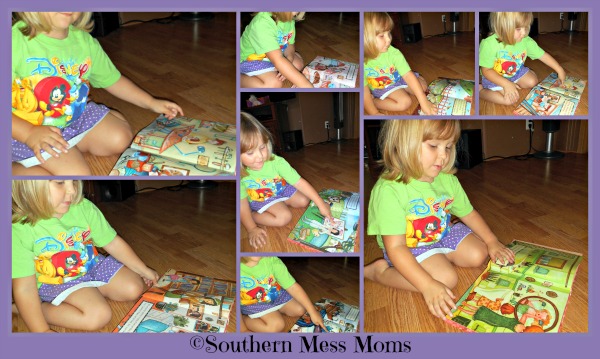 Ema couldn't wait to turn the page and see what would be going on! The illustrations are absolutely magnificent! The colors really capture a child's eye and make them want to explore even deeper than what you see on the surface. Ema loves to sit down with this book and find all of the little things within each page.
On top of being beautifully crafted, the subject matter in each picture is superb! I love that the book doesn't follow one child and all of the things her mommy does. Instead, the book follows a variety of mommies! It shows different cultures and ethnicities in such a wonderful way. I really feel that this book teaches equality and helps to break down that awful wall of stereo-types that so many kids are exposed to.
Another amazing aspect of this book is how well made it is! It is sturdy! Those of you with young kids know how long most books last around kids. I have taught Ema that books are to be cared for, something that I recommend all parents do, however, accidents happen. We have had this book for almost a year now and it is still in perfect condition!
The very last page of this book is what gets the most use at our house! It says: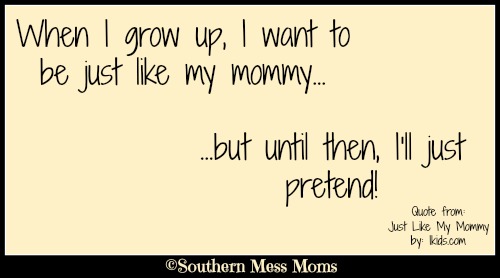 This page is magnetic! How awesome is that!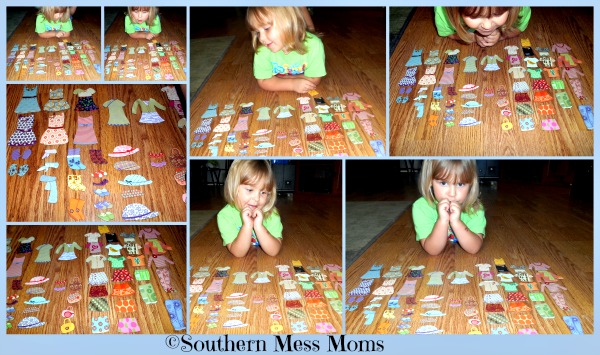 There are 60 beautifully crafted magnets shaped like articles of clothing provided and you get to dress up the little girl! With this amount of clothing options you end up with hundreds of mix and match possibilities… hundreds seems endless to a young child! :)! Emalee has literally spent HOURS playing with this book!
This book is basically a new version of the paper dolls we played with as kids. Sadly ladies this is yet another sign we may be getting older! Kids get to dress up the girl like a mommy might dress, however, most of the color combinations my child seems to come up with are rather funky! hehe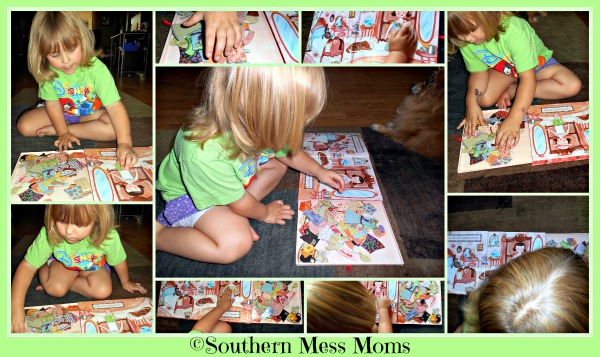 I have heard some people complain about the draw that is built into the book. While it is true that in the beginning it is a tad difficult to open, after a bit of use (a week or two for Ema) she was able to open it with no assistance at all.
I have also read where some people had trouble getting all of the little pieces out of the magnetic sheet when they first got the book. However, we did not have any trouble with this. I suppose it could be book to book with how well they were pre-cut.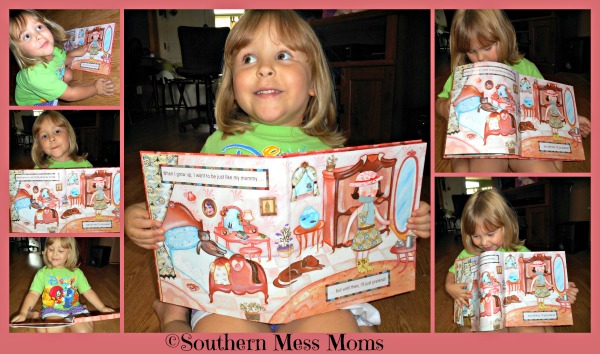 I would HIGHLY recommend this book for any child age 4 and up! Ema has had a blast with this beautifully made activity book and it wasn't even all that expensive!
Be sure to leave me a nice slice of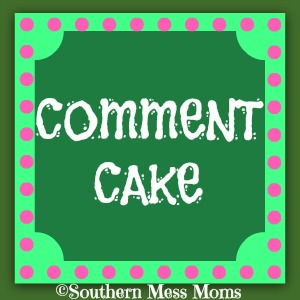 If you are interested in purchasing it, check out Amazon! That is where I found my copy!