Disclaimer: I was given the products in this post for the purpose of a review. I was not paid in any way to write this review. All opinions are my own.  This post may contain affiliate links that I receive commission or payment from in exchange for referrals. SouthernMessMoms is a participant in the Amazon Services LLC Associates Program, an affiliate advertising program designed to provide a means for sites to earn advertising fees by advertising and linking to Amazon.com.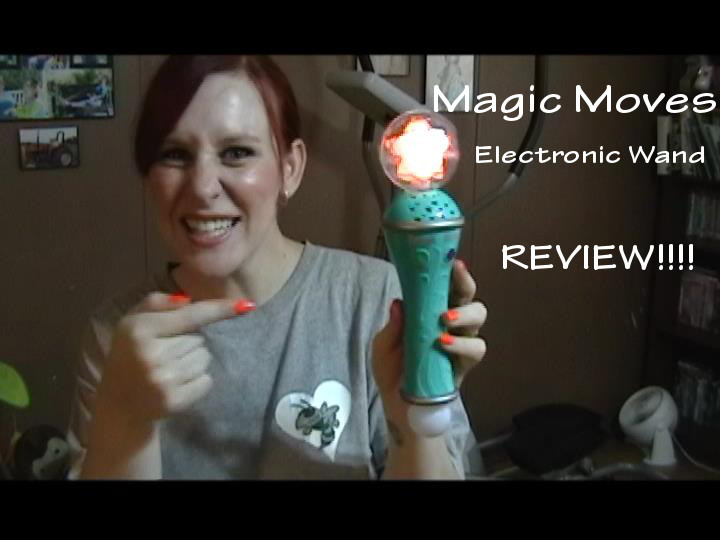 Have you heard of the Magic Moves Electronic Wand? It is an amazing electronic learning toy that makes for some epic, unforgettable indoor games for kids! I just cannot express how in love I am with this as an educational toy. It is a PERFECT kids activity that makes getting kids to exercise simple and fun.
Got your attention yet? Yeah I thought so! Be sure to read to the end and check out the awesome Video Review!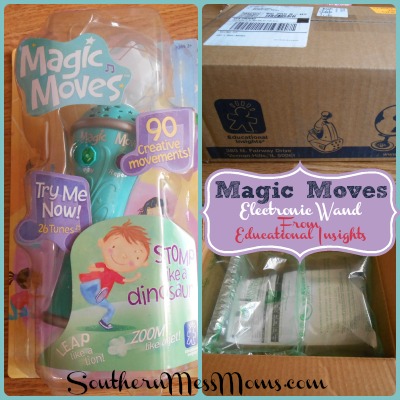 I simply love to review kids products! They are just so much fun! I have had a ball with Magic Moves
and watching Emalee play with it for hours and then beg to take it to school and share it with her friends is just great!
Product Description from Educational Insights:
"Shake it up! Work it out! Magic Moves is all about… MOVIN'! Stomp like a dinosaur! Swoop like an eagle! Ninety fun, physical commands, twinkling light shows, and 26 musical styles get little ones up and keep them moving—exercising their bodies, creativity, and listening skills! Promotes creative movement, gross motor skills, and physical activity
Develops listening skills and ability to follow directions; enriches vocabulary (sway, prowl, creep, leap…). Perfect for group activities or alone play. Winner of multiple awards including named a 2012 Best Toy by parents magazine. Requires 3 AAA batteries (included). For ages 3 and up."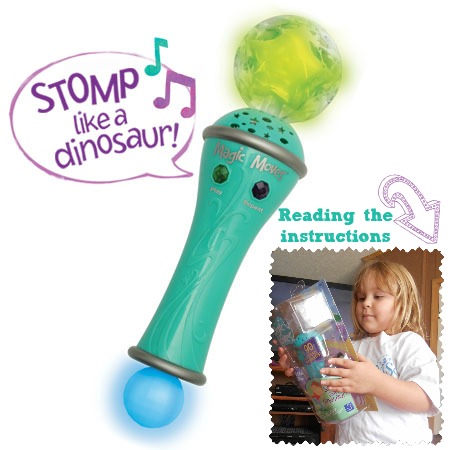 Emalee is 4 years old and is officially obsessed with this educational game! It is one of her favorite things to grab and use to get EVERYONE up and exercising! I have to admit that after 15 to 20 minutes of playing this game with Emalee I am generally out of breath and a bit sweaty! How awesome is that?
As parents and teachers we are always looking for fun, simple ways to get our kids to exercise and Magic Moves is definitely it!
Emalee even took this with her on the first two days of school to share with her classmates! The teachers said that it made for an AWESOME icebreaker activity. I have even though about purchasing one for the classroom as a Christmas gift.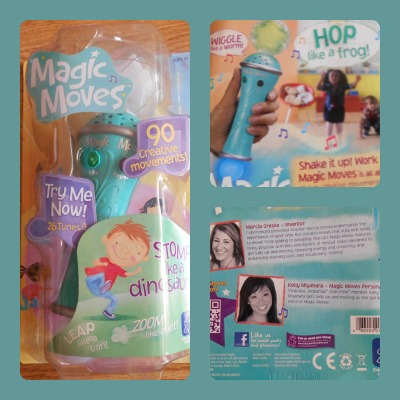 The only issues I have with the Magic Moves is that the volume level is a little low if you have more than one kid playing and I really wish it came with some sort of stand so that you could sit it down and play easier.
Emalee and I wanted to crawl around on the floor for several of the 90 commands but it was difficult to hear the game if we did. I love that it randomly says things like "freeze" or "dance" which adds a huge listening aspect to the game.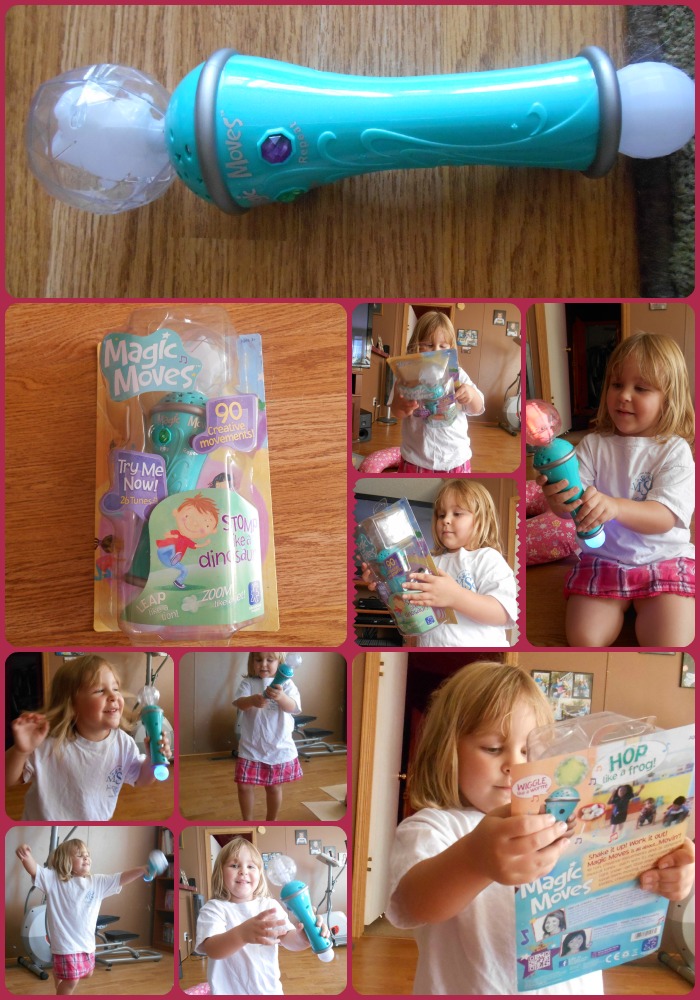 I feel that Magic Moves Electronic Wand is an excellent learning tool for kids that utilizes their love of animals and dancing to teach vocabulary while still having fun and being active!
Now for the part you have all been waiting for! My VIDEO REVIEW!! This is quite hilarious!
Want to connect with the Educational Insights company? Here are some awesome ways:
Facebook
YouTube channel with lots of videos about their different products
Twitter
Pinterest
Instagram
I also HIGHLY recommend joining in on their Newsletter! I know I sure have!
So tell me, what do you think of the Magic Moves? How do you keep your kids interested in staying active?
Products Mentioned in this post:
I received one or more of the products mentioned above for free using Tomoson.com. Regardless, I only recommend products or services I use personally and believe will be good for my readers.