Want to know the most EPICALLY Awesome recipe I have come up with in ages?!?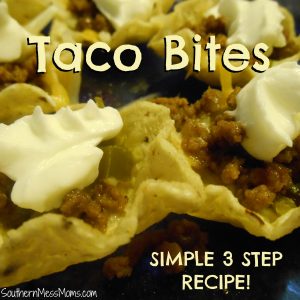 That's right! Taco Bites!
Oh my gosh guys…simple and easy snack, dinner, whatever! I just love it!!
Okay so I promised a simple 3 step recipe and that's what you're going to get:
Step 1:
Get your Scoops chips and set them out on a plate.
Step 2:
Take out the left over taco meat because we all have it laying around lol and put one spoon full into each scoop. Okay, so if you don't have left over taco meat … you need to make the taco meat! 🙂 No biggie!
Add whatever toppings you like. I add: cheese and JalapeÑos I'm not sure why it made that N big…but look it has the little symbol! lol 
Step 3:
You have two choices here:
Microwave for about 30 seconds or I prefer this option broil in oven for about 2 minutes.
Broiling causes the tips of the chips to brown and get that yummy flavor….but microwaving is done in 30 seconds….totally up to you!
Top it with a dollop of sour cream if you'd like! I even add a touch of Mild Taco sauce sometimes!
Vegetarian? That's okay! You can just leave out the taco meat! This is delicious with just cheese and peppers! 🙂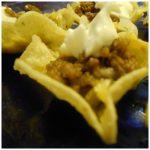 Try it! Let me know what you think!
Do you know of any other quick yet delicious recipes???