Disclaimer: All LeapFrog products featured in this post was provided to me to host an at home party. I was not paid in any way to write this review. All opinions are my own.  This post may contain affiliate links that I receive commission or payment from in exchange for referrals. SouthernMessMoms is a participant in the Amazon Services LLC Associates Program, an affiliate advertising program designed to provide a means for sites to earn advertising fees by advertising and linking to Amazon.com.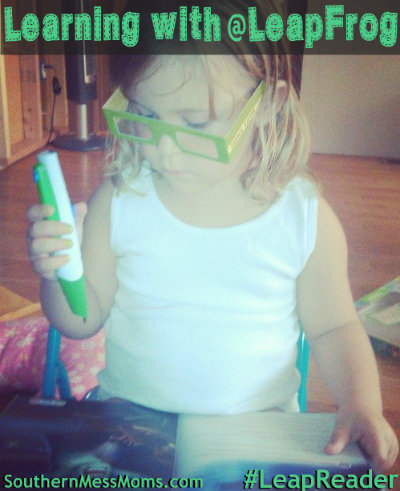 As I'm sure most of you already know LeapFrog™ offers a HUGE assortment of educational toys for kids of all ages.
Over the past 4 years as a mom I have bought several of their products and have never been disappointed! I was ecstatic when I found out that I was selected to host a LeapFrog LeapReader™ "Ready, Set, Read & Write" Mommy party from MomSelect!
By taking part in this party I received a "party kit" and let me just say it was stuffed full of educational goodness! Curious what was in it? I got TWO LeapReaders as well as all of this awesome stuff!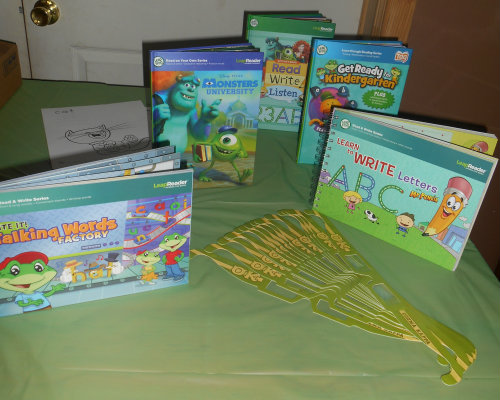 Okay so let's break down each item and tell you a little bit about why it totally rocks!
I think I'll start with the LeapReaders….seems logical right?  $49.99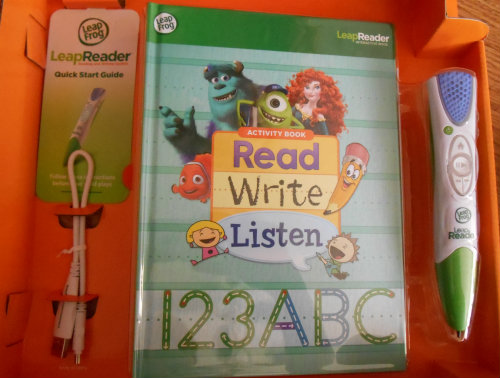 The two LeapReaders were pre-loaded with some awesome books and learning apps and came with a USB cord for charging!
[Tweet "Yep, that's right moms! YOU DON'T NEED TO BUY BATTERIES FOR THIS ONE!"]
I bet you are curious what makes this LeapReader so awesome….well let me break it down for you:
1. It includes 3 essential experiences for the price of 1!
Learn to Read:

Sounds out words, reads words, spells words, reads sentences (reads an entire page with the click of one button), and lets kids play games and puzzles!
The LeapReader helps kids to build early reading skills such as phonics, vocabulary and reading comprehension. I LOVE that it often asks questions about the pictures in the books. This shows kids that the pictures are important as well. Emalee has a blast clicking all around a book to see what it has to say about the pictures. The interactive game pages within the stories are awesome as well!
Learn to Write:

It gives children interactive guidance as they practice writing letters and numbers on special MESS-FREE writing paper. This works a lot like the writing on the LeapPad if you are familiar with it. Emalee had a little bit of trouble because it is VERY specific with where you should draw your line and she kept picking up her pencil short of where they wanted it…however, with time and practice she will get it and it is teaching her that her letters should fill up the space available.
Learn through Listening: Audio books, learning songs, and trivia challenges help to develop and build comprehension skills and vocabulary. Emalee doesn't care too much for the audio only books right now…but she adores the songs!
2. The LeapReader library is huge! It includes over 150 books, maps, flash cards, book sets, learn-to-write sets, audio books, music albums and trivia challenges! Each one is developed or approved by LeapFrog's team of learning experts. The LeapReader can hold up to 40 books or 175 songs at one time, and is backwards compatible with MOST of the Tag library.
3. LeapFrog LeapReader is available in pink & green. When you purchase your LeapReader you don't have to worry about not having any games, it include a sampler book with four apps! ($20 Value)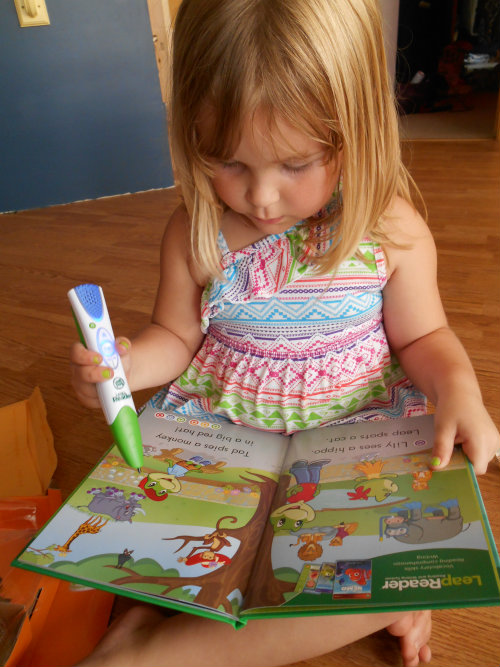 The sampler book is really cool and shows you a really great idea of what is available. I love that the books meant for younger kids go so far as to sound out the words and even include detailed pictures instead of words in some stories. I also like that it gives you an example of the maps because I wasn't quite sure how this would work. Emalee LOVES the maps!
My one issue with the LeapReader so far is it's size. It is rather large and a little difficult for "little" hands to hold properly. We struggle with Emalee holding her pencil the right way and I worry that writing with this one may take us in the opposite direction.
Write It! Talking Words Factory $17.99

Here is a snippet from LeapFrog's website:
"Professor Quiqley's Singing Words are performing in a concert. Head to the Talking Words Factory to rehearse for the show, and help build words with Leap, Lily and Tad. Use the Word Whammer and the Sticky-Ick-o-Rama to learn how letters blend to create new words, trace missing vowels and write words in your workbook.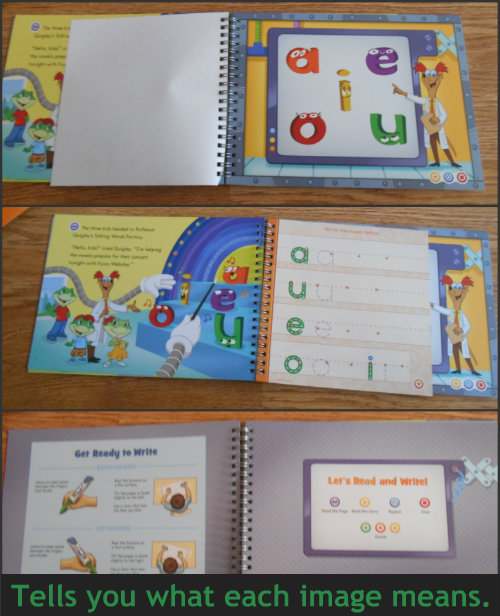 Features
• Build reading and writing skills, and help save the Singing Words concert from turning into a word jumble!
• Interactive workbook features letter tracing and word writing activities. Also includes Practice Pack with extra mess-free LeapFrog™ Learning Paper.
• Teaches: short & long vowel sounds, word families and rhyming words.
• Ages 4-8 years.
• Works with LeapReader™ reading systems (sold separately)."
Emalee had a great time with this one! She loved that she could write on the paper and it walk her through how to form each letter. Some of the activities in here were a little above her knowledge base, but honestly that is a good thing. I want her to be challenged!
Learn To Write Letters with Mr. Pencil $19.99

Here is a snippet from LeapFrog's website:
"Join Dot, Dash and Mr. Pencil on a musical learning adventure featuring interactive stroke guidance, exciting sound effects and engaging activities. Practice writing the alphabet with the LeapReader, and learn about upper- and lowercase letters and letter sounds.  
Features
• Reviews the key elements of writing the alphabet—upper- and lowercase letters, proper stroke order, letter sounds and handwriting—in a fun, interactive way.
• 10+ voiced Doodleburg characters lead the story and get writers grooving. Create curved letters with Curly Q and Loopy Lou, explore more linear letters with Straight Up Sue and practice penmanship with Ziggy Zag. Jitterbug with Jimmy Jot and learn about upper- and lowercase letters with dots!
• Interactive audio support provides instant feedback as children practice their handwriting. No-mess system includes a deluxe interactive workbook and a Practice Pack with extra LeapFrog Learning Paper to reinforce learning through repetition.                                                                                                                                                                     
• As children explore LeapReader books, parents can connect LeapReader to their computer and expand the learning with fun, free activities, printables and tips from experts that reinforce their school skill set. You'll be able to see their reading and get personalized skill insights.
• Works with LeapReader™ reading system only (sold separately); this title is not compatible with the Tag Reading System.
• Ages 4-8 years  "
This is by far Emalee's FAVORITE book that we got in our kit. She is a total Mr. Pencil junkie on the LeapPad and this is no different. She adores getting to explore a new "world" with all of the characters and enjoys learning to write and draw new things. This is one that I definitely recommend to anyone and everyone!
Interactive Talking Words Factory Flash Cards $13.99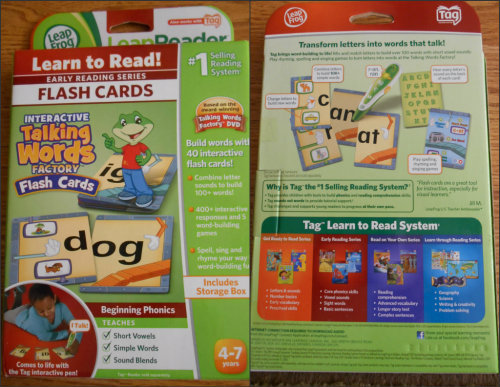 Here is a snippet from LeapFrog's website:
"Mix and match letters to build more than 100 words featuring short vowel sounds.  Based on the award-winning Talking Words Factory DVD!  Use the LeapReader™ Reading and Writing System to bring this flash card set to life!
• More than 400 interactive responses and 5 spelling, rhyming and singing games reinforce word-building fun.
• This Early Reading flash card set helps develop core phonics skills by letting children actively play with word sounds and recognize how they come together to create words. The Early Reading series is part of the LeapReader™/Tag™ Learn to Read System, and is designed to build upon basic reading skills and support children as they proceed at their own pace toward independent reading. The LeapReader/Tag Learn to Read System library features 60+ interactive books, puzzles, maps and more.
• Parents can connect the device to the online LeapFrog® Learning Path to see what their child is playing and learning.
• For use with the LeapReader and Tag Reader pen only. LeapReader or Tag Reader pen is required and sold separately."
Emalee seems to enjoy these flashcards, even though she struggles with some of the games that come with it. It isn't easy for her to create words as quickly as it asks her to…but with time she will get it. As a group at the party we played a quick game of Word Tag and they all had a blast! Basically what we did was I gave two children beginnings of words and two children the endings they then used the pen to figure out who needed to get together to make a word. There are a ton of things like this that you could do with these flashcards.
Get Ready For Kindergarten $13.99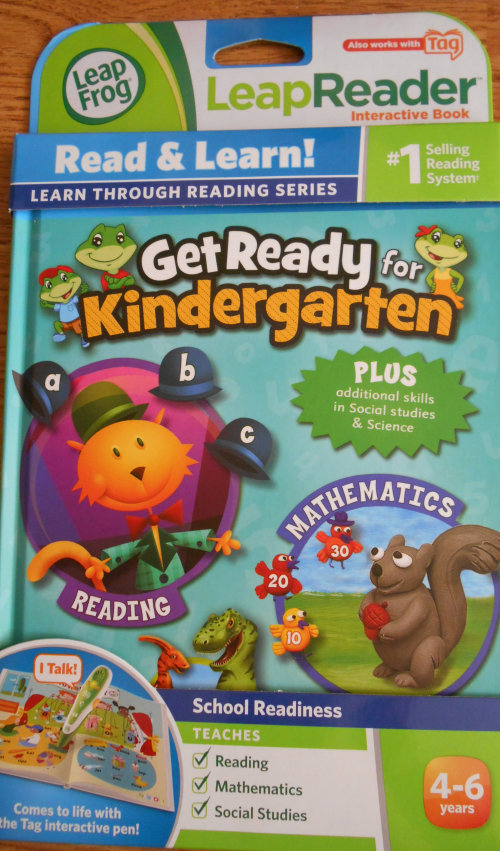 Here is a snippet from LeapReader's website:
The Tag Get Ready for Kindergarten multi-subject interactive book contains a broad range of math, science, reading and social studies curriculum combined with engaging art and fun audio effects. Use the LeapReader™ Reading and Writing System to bring this book to life!
Features
• Get Ready for Kindergarten helps kids build fundamental school readiness skills! In Word Circus, children use consonants and vowels to build a variety of one-syllable circus-themed words. In Monster Math, kids count sets of candy up to 10 as a monster loads the pieces into its bag. Kids also learn to recognize dinosaurs, identify their people and places in the community, understand the seasons and explore different instruments. Other entertaining activity pages teach word building, comprehension, pattern recognition, skip counting, calendar skills and beginning social studies concepts.  
• This Learn through Reading book is part of the LeapReader™/Tag™ Learn to Read System. The Tag System helps children develop and strengthen critical reading skills, and the Learn through Reading series is designed to help them apply those skills to explore topics like science, geography, writing and more. The LeapReader/Tag Learn to Read System library features 60+ interactive books, puzzles, maps and more.
• Parents can connect the device to the online LeapFrog® Learning Path to see what their child is playing and learning.
• Appropriate for children ages 4 to 6 years.
• For use with the LeapReader and Tag Reader pen only. LeapReader or Tag Reader pen is required and sold separately."
This book is really fun and simple for Emalee to use. I enjoy it because it is one that she can FULLY do on her own. I love working with Emalee but every now and then it's nice for her to be able to work independently on some of this stuff 🙂 I really love that this book includes a variety of subjects, I could easily see this book helping kids prepare for school.
Disney·Pixar Monsters University $13.99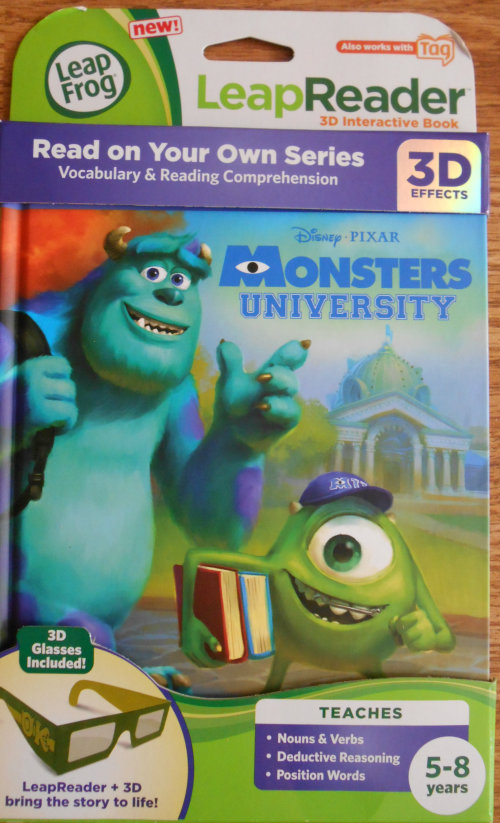 Here is a snippet from LeapFrog's website:
"Growing up, Mike and Sulley shared just one dream: to get into the Scaring Program at Monsters University. Join the fun on campus as these two monsters learn to appreciate their differences, develop a lifelong friendship and train to compete in the famous Scare Games! LeapReader brings the story of Monsters University to life with exciting 3D effects and helps build reading comprehension and vocabulary skills! (3D glasses included.)
Features                 
• Experience the world of Monsters University in 3D, with included 3D glasses!
• Play learning games that build logic and reasoning skills using position words and some detective work.
• Learn about nouns and verbs as you correctly identify the right scare technique to complete final exams!
• Read at your own pace getting word-by-word support along the way to develop word recognition and reading comprehension skills.
• Touch advanced vocabulary words to hear them read aloud, and deepen your comprehension skills with rich activities that reinforce word meanings."
Emalee adores Monster's Inc. so this book was a total hit! She was super excited by the glasses and the fact that she gets to wear them anytime she reads a 3D book, which was a new experience for her.
Okay so now for a few pictures from my party!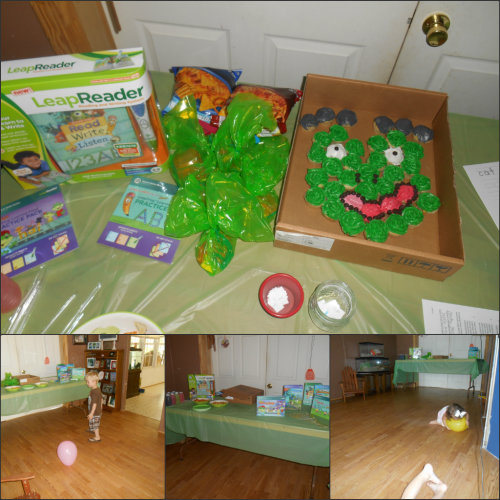 I set up a snack table with goodie bags, cupcakes, and some chips. I also displayed the LeapReader that I was giving away as a door prize here! It was super exciting to see the moms putting their names into the bowl!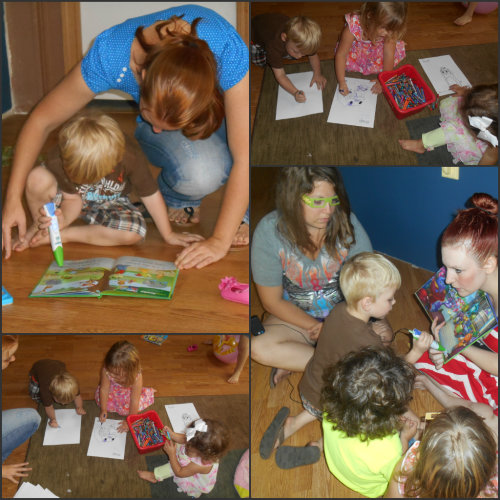 The kids really seemed to have a great time getting their hands on the LeapReader. I thought my ears were going to explode as they roared away with the T.Rex audio book and the Monster's University book!
The little boy on the left was our door prize winner! Yay for him! He and his mom sure seemed to fall in love with this product pretty fast!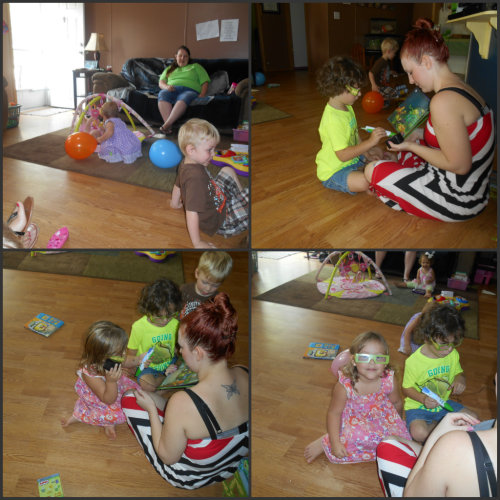 I had a few younger kids (18 months and under) there and they had fun playing with the LeapPad and a few other toys I had out. Can't wait til they get big enough to enjoy the LeapReader!
There you have it! We had a blast at the party and I so hope that I get the opportunity to do it again! I highly recommend the LeapReader to anyone with kids learning to read, it just makes it fun! Heck half the time the kids didn't even realize that they were learning, they just thought they were playing games!
Be sure to check out
LeapFrog:
LeapFrog.com     Facebook     Twitter     YouTube
MomSelect:
MomSelect.com     Facebook     Twitter
Disclaimer: I received free LeapFrog products in order to host the LeapFrog sponsored MommyParty. The opinions expressed here are my own.
Products Mentioned in this post: