Disclaimer: I was given the products in this post for the purpose of a review. I was not paid in any way to write this review. All opinions are my own. This post may contain affiliate links that I receive commission or payment from in exchange for referrals. SouthernMessMoms is a participant in the Amazon Services LLC Associates Program, an affiliate advertising program designed to provide a means for sites to earn advertising fees by advertising and linking to Amazon.com.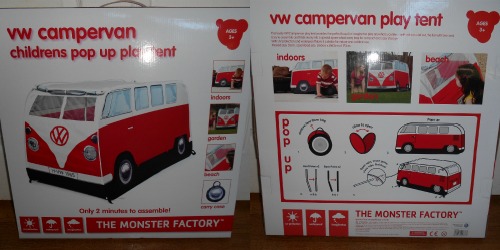 I was recently given the chance to review the most amazing product from The Monster Factory. Who doesn't love a good kids tent? This one is by far my favorite EVER!
This tent, if you haven't figured it out already, is designed based on the simply AWESOME 1965 VW Camper Van!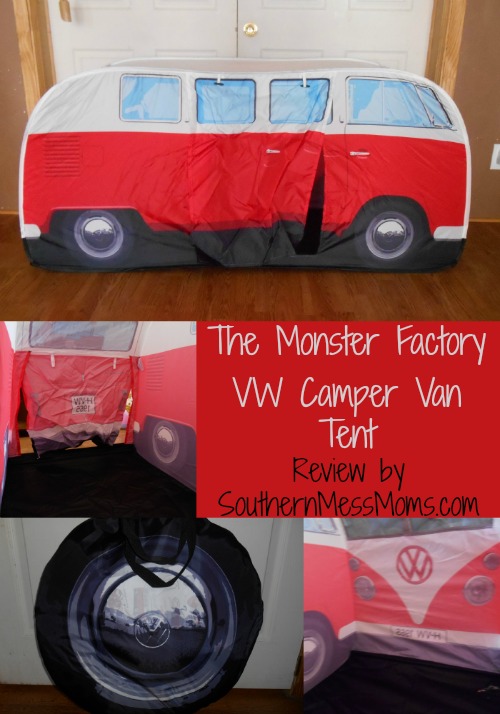 Okay, so I will admit that my daughter totally had no clue what this was…she kind of thought it was a firetruck when I first showed it to her. However, once I explained that it was a type of camper she was even happier than before!
The 1965 VW Camper Van Play Tent is licensed by V.W and is even a scaled down version built to VW speculations!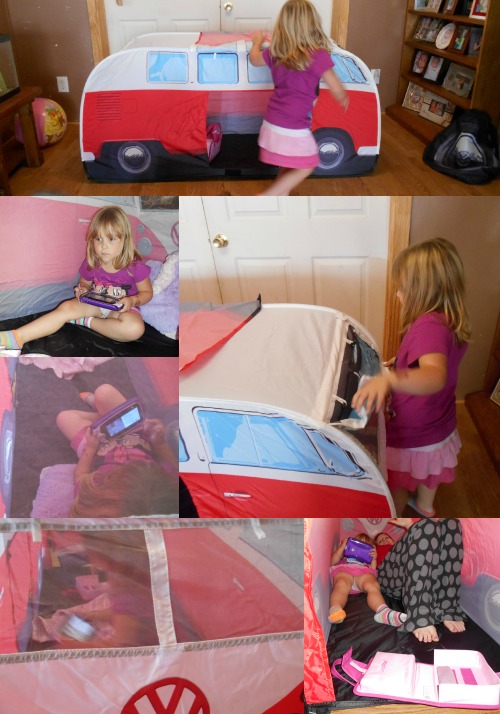 I know you guys that have used kids tents before know the WORST part of them is that they take up so much room and storage is just a total mess!
The Monster Factory thought of this too!
It comes with a super cool and easy to store VW wheel case, which means it is easy to carry around with you and put away.
The tent has a real bottom and comes with the spikes so that it can even be used outside like a "real" tent! It even has a window that opens in the front 🙂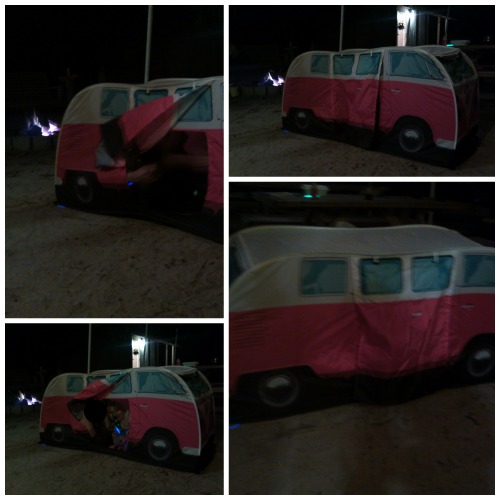 I was a little "iffy" when I saw the instructions that came with the tent…it said easy setup in under 2 minutes…I mean really?!?
They so don't know who they sent this tent to! There is NO way I can figure this out…
But guess what…even with me lacking any and all common sense…I was able to put the tent up in right at 2 minutes!
It was soooooo easy!
I didn't get a video of myself putting the tent up…however, I did find a few pretty awesome video from The Monster Factory's YouTube page that shows it pretty amazingly.
The instructions also said that take down is just as easy…from all of the videos I found and after talking with some friends that have tested this tent out I thought it would be super simple…
Here is the VERY helpful video from The Monster Factory that shows how easy it is to take the tent down and put it into the wheel case!
Well…my husband and I spent a good 15 minutes trying to get it put away and I must say it was rather hilarious…I honestly believe that one of our "posts"  is a little wonky because it should have just rolled right up….
I hope you guys got a good laugh at our expense…I know I laughed like crazy while watching us lol Even though we struggled so much I have to say that I still ADORE this tent and totally recommend it to everyone!
The Monster Factory 1965 VW Camper Van Play Tent is available in the colors of blue, pink or red. This makes the perfect holiday gift which is why we've listed it in our Holiday Gift Guide.
Wnat to  your very own The Monster Factory 1965 VW Camper Van Play Tent? Check out The Monster Factory's Website or Bed Bath and Beyond.
Don't have kids?!? No problem!
They have adult tents as well! These are the actual size of a REAL VW Camper Van and have two rooms!
Be sure to head on over and check out The Monster Factory at: