Disclosure: I got this product as part of an advertorial.
Disclaimer: I was given the products in this post for the purpose of a review. I was not paid in any way to write this review. All opinions are my own.  This post may contain affiliate links that I receive commission or payment from in exchange for referrals. SouthernMessMoms is a participant in the Amazon Services LLC Associates Program, an affiliate advertising program designed to provide a means for sites to earn advertising fees by advertising and linking to Amazon.com.

I LOVE SINGING!
Okay there I said it! Some of you guys already know this about me…some of you do not.
I will sing anything and everything…no matter where I am! I sing in the shower, the car, the yard, the grocery store…and I don't just sing actual songs either!
I will sing about anything! I have literally sang a song about driving a tractor while I was driving the tractor…
Yeah…welcome to my world! I'll give you the full tour later!
So, since I love to sing, and have been told a few times that I'm not too bad at it when I really try instead of just being my awesomely silly self when I was given the opportunity to give Roger Love Singing Academy online a chance I just couldn't say no!
I have never had the money to do singing lessons…and honestly I'm not sure I would have even if I could have! Singing is just a fun hobby for me…I don't ever want a career out of it!
I mean really who would pass up the opportunity to get tutored in singing, one on one, in my own home without having to worry about being embarrassed or criticized?
To make things even better, as a stay at home mom I can fit in my lessons whenever an open moment drops by and let's be honest here…that doesn't happen often!
I loved that I could do this at my own pace and redo the "lessons" as often as I wanted!
The site is set up pretty simple. Here is a look at the menu:

When you first start you watch this awesome little video that walks you through what to expect and which menu to use for what. The site is very well organized and extremely easy to navigate!
The place you spend the most time at is the Main Course. This is where you find your lessons. When you choose a week it will open up and look something like this: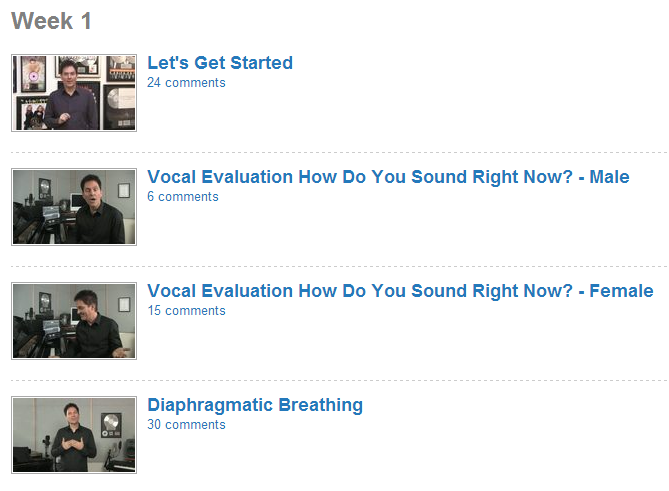 Each one is a video ranging from a few minutes to half an hour that walks you through different aspects of singing and how to cater to your own voice. The comments that you see are other people that are taking the course and have something to share or a question to ask if you need something explained a bit further. From what I saw the people that run Roger Love Singing Academy are very diligent and respond rather quickly to questions.
My favorite part of Roger Love Singing Academy is the Instructional Love Sing-A-Longs. Basically, they take songs that most people know and put them to this awesome screen player within the website and show you which voice (head, middle, or chest) that you should be using when, when to use vibrato, etc.
It totally rocks!
Here are a few screen shots so you can get an idea what I'm talking about:
You sing the words as they enter the middle of that pretty red box. It is so super neat! It even slows down and speeds up if you are supposed to hold a word or not!
You can choose to sing with the performer (guide vocals) or without and you can even slow it down so you can learn to sing the song one slow step at a time!
So, I guess what I am trying to get at is that this product rocks! If you or someone you know is looking for a cool way to sing better Roger Love Singing Academy is definitely the way to go!
I received one or more of the products mentioned above for free using Tomoson.com. Regardless, I only recommend products or services I use personally and believe will be good for my readers.