I started my workouts again today!!
Yay me?!? Oh my gosh! 2 weeks off was a very, very bad idea!
I felt like I was going to die trying to get it done.
Okay…so I am totally going to embarrass myself in this post…I am going to share pictures of myself working out!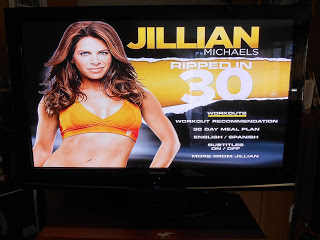 A review of this particular work out video!
You should realize how much I love you guys if I am willing to share this kind of stuff!! Let me just warn you that your eye sight may never be the same…but here goes nothing..
I absolutely adore the Jillian Michaels workout DVD's! They are pretty amazing for a few reasons:
30 minutes long Come on ladies! Even WE can find 30 minutes for a quick workout!
Difficulty options: Each DVD has several workout levels for you to choose from. This particular DVD, Ripped in 30, overs 4 weeks to work your way through. Within the different weeks there are 3 ladies to follow. You can choose which one is working out at your level. Let's face it ladies…most of us are going to be choosing the easiest possible option for quite some time! Don't feel bad if you have to do Easy Week 1 for several weeks! At least you are being active and trying! GOOD FOR YOU!
They are TOUGH! Oh my goodness…even the easy levels are pretty dang tough and have me working up a sweat! I often find myself cursing, grunting, and wishing I had a Voodoo doll of her to make her feel the pain she is causing me…but that is a whole different post!
Okay, so let's be honest here. The first few times I did these workouts…I spent half the time cursing her for making me do these crazy things, half the time laughing at myself for even attempting to do some of this stuff, and the rest of the time working out!
So maybe I'm not great at math … or maybe I did very little working out the first few times I attempted these DVD's! That's for me to know and you to find out when you attempt them! 

Hehe…I read somewhere (I'm sure…or maybe I made this up in my wonderful head!) that you can burn a lot of calories laughing!
Now for the pictures of my workout today:
Do you ever get the feeling someone is watching you at the absolute worst times? Maybe you feel like they are even mocking you!! Hmm..maybe it's just me…maybe you can help me figure out why!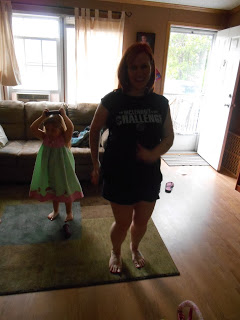 My mini me stole my weights! lol
I should really thank my hubby for these WONDERFUL pictures!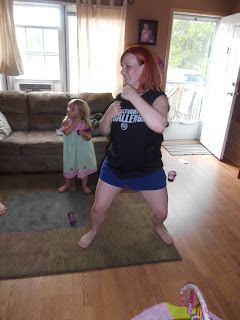 Figure out why I feel mocked yet?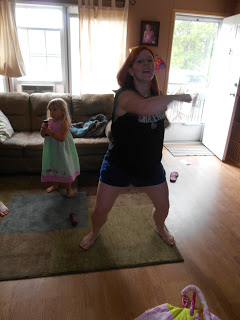 I am looking rough!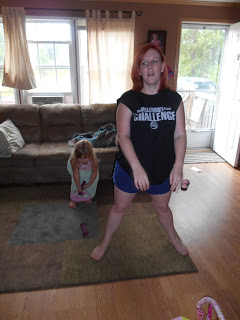 This, I believe, is one of those "you want me to do what?" moments…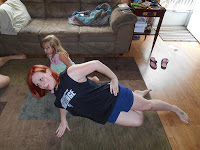 These suck!! Even modified hurts!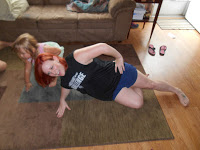 Trying not to laugh at ourselves…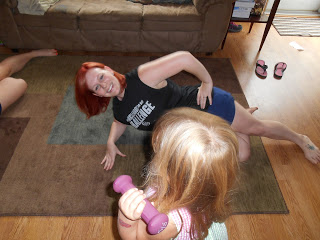 You can see my friend's legs….she can comment who she is if she wants 🙂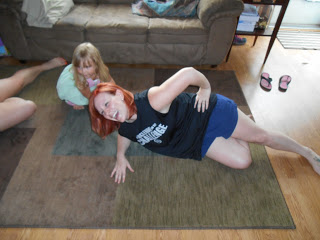 One of those "laughing at myself" moments.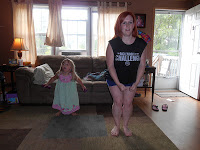 Not attractive picture…but Emalee looks adorable!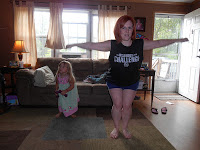 Still awful of me!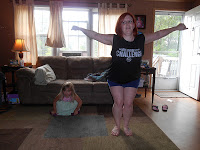 Oh my god I look horrible! But almost done!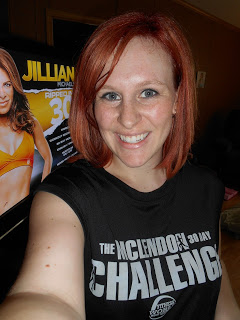 Done! I'm sporting my Mclendon Challenge shirt!
The Mclendon Challenge was a part of Fitness World Gyms in May. Basically you had to crawl/walk/run 2 miles a day for 30 days! You would be amazed at the difference you see in your body if you do this!! I love being a member of the Fitness World Run Club, they are such a motivational group!