Due to the fact that I have made the switch to WP and my blog is all nice and pretty, I decided to do this weeks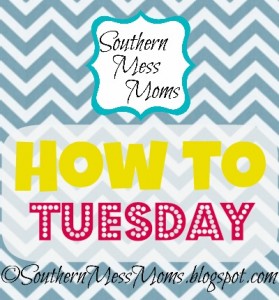 on how to keep that blog organized and clean by using a Free printable blog planner!

Okay, so I totally know that being told how to "organize and clean" by someone whose nickname is Southern Mess may be a bit silly. However, I really do have some good ideas!
Don't run off yet! Just wait, read, and download! 🙂 Oh yeah, don't forget to share it with others too!
Want to go straight to the page you need?
Calendar          Weekly Overview          Blog Worksheet          Reviews          Giveaways           Giveaway Stats          Companies & PR Guest bloggers          My Guest Posts          Affiliate Info          Income & Expenses
Before I get to the part you all came here for the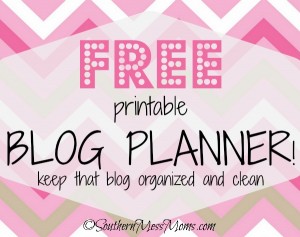 I want to go over a few tips on keeping your blog looking organized, clean, and PR friendly!
When you visit a blog you are going there for the content. If an ad catches your eye that's great and helps out the blogger. However, if a page is taken over by ads and sponsored posts, the blog loses it's down to earth feel and makes you less likely to continue reading.
I know that we ALL want to make money from our blog who wouldn't but we need to be sure that we don't lose who we and our blog are in the process!

As with everything else in life, keeping things organized can make blogging 1 million times easier! We are often trying to juggle 10 thousand things at once and sometimes we loose track of what is supposed to happen when and where! I know I am guilty of this! Especially when my real life gets busy as well!
Here are a few tips to keep your blog clean, organized, and un-cluttered:
1. Schedule your posts ahead of time! Okay, so I know that this is a lot easier said than done! I think in the 2 months that I have been blogging I MAY have done this 3 times?!? I feel like I should get some sort of award just for managing to do this! I sure hope my notebook helps with this though!
Scheduling your posts ahead of time will also help you come up with even more material. Why?!? Because you will actually have time to LIVE YOUR LIFE! You can get out of the house and do things that will help you come up with new and eye catching material!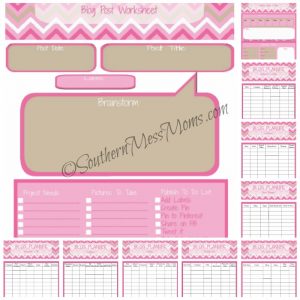 Having a CALENDAR is a total must for blogging! This will stop those late night "freak outs" of  "Oh crap! What am I going to post today?!?" The notebook I created has a weekly and monthly calendar for you to track your posts, views, social media, comments, etc. 
2. Features, features and more FEATURES! These things will make your life so much easier!
Having feature posts makes planning your week sooooooo much easier! For example, I KNOW that Tuesdays are How To and Saturdays are for guest bloggers.
Setting this up means that I have a good idea of what I am going to post each week and only have a few days that I have to "come up with a new idea'. Features also area  great way of bringing in repeat readers! If you find an idea that people like they will visit your site to see the updates each week!
3. Have a work schedule! Just like a "REAL" job you need to set hours that you plan to work on your blog. Set a timer to go off when you are supposed to stop working! This will help you make sure that you don't lose track of time and miss out on your life.
So now that I have shared with you my TOP 3 TIPS TO KEEP YOUR BLOGGING LIFE ORGANIZED I'm going to give you a quick break down of each page of the notebook and what I use it for!
First is the Calendar:

I included a blank calendar where you can fill in the dates each month and make short notes to keep track and have an overview of your plans for the month. I keep this at the very beginning of my notebook and then transfer it to the back at the end of each month. Then I will slowly build an overview of the year to see what I did when and what changes it made to my visits and such.
Second, is the Weekly Overview:
 Here is where I keep up with when I plan to do giveaways (begin and end), reviews, sponsored posts, and blog hops. It's important that you schedule these things so that you don't end up ONLY doing this kind of post. If we aren't careful we will forget to do the posts that made our readers stick around in the first place.
There is also a place to keep up with each of your social stats and rankings. It is important to have an easy way to see if there is growth and help you decide what you may want to focus on a bit more. I use the notes section to keep up with things I want to research or try to improve on.
 Third, I have a Blog Worksheet: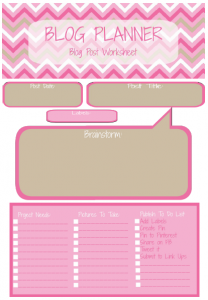 This one has a lot of features that I love! You have a place for the title and the date you plan to post it, a place for the labels or categories it fits under, a spot for random brainstorming, and my absolute favorite part is at the bottom! A checklist for the post. Fill in the blanks with any and all materials you need to complete it, pictures you need to take and edit, and once the post is ready to publish where all you need to share it! This little baby keeps me on track and helps to make sure that each of my posts is done equally 🙂
Fourth, I made a place to keep up with Reviews: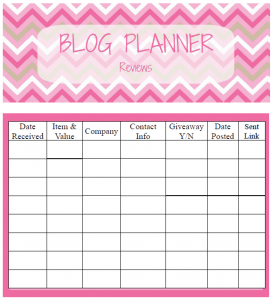 Download it!
 This sheet keeps me on track with my reviews! I love it! It makes sure that I treat every company I work with equally and each post fairly. I like that I can mark on here if there is a giveaway attached to this review!  If you schedule too many reviews in a short period of time their quality may go down and your readers may not be happy. I try to choose products to review that fit in with my site. This means that most are silly in some way, I want my reviews to read like any of my other posts. My theory is this: put yourself in your readers shoes. If you come to a blog to read silly posts about their day to day life are you going to want to sit down and read a serious straight facts review? I know I wouldn't! I can barely make it through half of the reviews on the blogs I read. Just because you are telling me a product rocks or doesn't and why, doesn't mean that you can't make it fun to read! Just look at my Baby Comfy Nose Review for example!
Fifth, there is a place to keep up with Giveaways!

This page is great! It helps keep you on track with your giveaways! It has a place for everything from the dates to who is helping you host it! My favorite part is the Winner and Unique entries section though! This will help you keep track of those pesky cheaters and see if the same people are winning over and over again. Also, a few companies have been known to ask how many unique entries your giveaways get. This page will make keeping track of all this and more super simple!
Sixth, is yet another Giveaways page: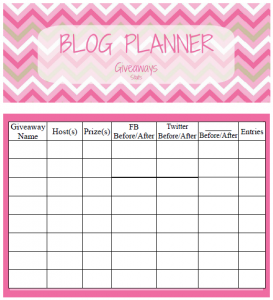 Why do we put ourselves through all the hassle that giveaways entail? That's an easy one to answer! To bring in new readers! Free stuff is a sure-fire way of getting traffic to your site (that is if you advertise them). This sheet allows you to track your gains or loses in followers for each giveaway that you do. Of course your followers grow and fall for other reasons as well, but over time you should be able to tell which giveaways your readers like, which giveaways brought in new readers (that hopefully stuck around afterwards) and which giveaways ran people off!
Seventh, is a PR page: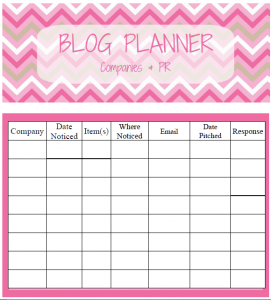 I hear a lot of people asking, "How do you get companies to do giveaways and reviews?" Heck I was one of those people and still am some times! The answer? Well, it's simple really! You tuck your pride away and you beg!
Okay, so maybe beg isn't the right word. You need to come up with a great PR message that you are going to send out to companies to try and get them to work with you. This page gives you a place to keep up with what companies you have contacted and when. In the response box (which sadly will sometimes remain blank because people are rude and don't answer at all) I like to put Y or N and then if they said No but once you hit ____ likes or followers (etc.) contact us! I have gotten a ton of responses from companies that said they wish they could work with me and to simply contact them again as soon as I reach their requirements! If I don't have a sheet like this I am likely to forget all about it!
Eighth, is a sheet to help maintain a regular Guest Blogger schedule: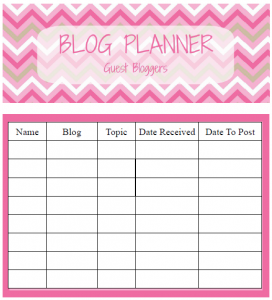 Guest bloggers are awesome! No matter how you use them, be it to fill in your week when you can't seem to find the time to write enough or maybe you do like I do and have a Feature that involves guest bloggers 🙂 This page will make keeping track of who is posting when and if you have their post ready! I know for my Sit Around's I have to remember to send out the questions on Monday or Tuesday, edit it and fill in my own silly thoughts once I receive it, edit silly selfies, create the perfect Pinterest image for the recipe…there is just so much that goes into a guest post!
Part nine goes right along with Guest bloggers, Guest Posts: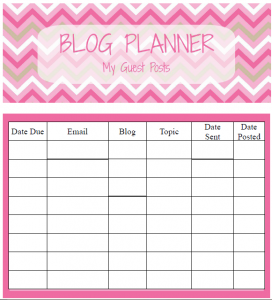 What better way to get your blogs name out there than to do a guest post? The problem often is, that we forget what we said we would do and when! AHHHH!! Just like accepting guest bloggers, being a guest blogger is just as full of things to keep track of! This page helps me remember when it is due, who I'm emailing, what I'm writing about, when I send it and most important, when it is posted! Most people like to do a short post on their blog to let their readers know that they did a guest post that day! I have even seen a few bloggers that require that you do not do an actual post on your blog that day. This way your readers are more likely to visit their page to see what you had to say that day. I don't require that on my Sit Arounds but I do appreciate it if the guest blogger lets their readers know to check out what they did on my blog that day 🙂
Eleventh is keeping track of Affiliate information: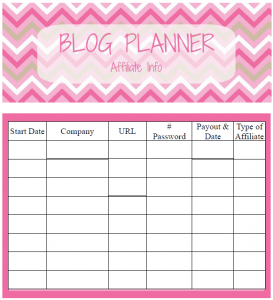 This one is pretty self explanatory. I simply use this to keep up with ALL of the tons of places that I am trying to get to let me be an affiliate! We all do it, we sign up for something and then forget all of the information! There are so many options out there for affiliate opportunities and you just need to explore and figure out which one is the best fit for you! I plan to come up with a list of affiliate programs and a short description of them for a how to in the future!
Lastly, I have a very important page of the notebook…Expenses and Income: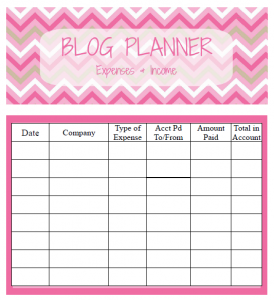 This page gives you a place to keep track of everything you spend and make in one place. You can even keep up with a total in your blogging account! I don't know about you guys but I like to have a separate account for blogging things. This way I know what I can spend on upgrades and such without ever dipping into our actual account. My rule for my blog is I can only spend what I make! So far…I haven't been able to spend anything! lol
Well, there you have it! That is what I have come up with for my blogging notebook for now! If you have a page you think should be added please let me know! I am positive that I have left something out that is important, I just can't figure out what it is!
Please don't forget to give me my comment cake!
Oh yeah, clicking those little share buttons right down there…that is like the best virtual hug ever!!