Mischievous Monday: Blanket Forts
This weeks most mischievous moment came from Emalee, yet again!
Nothing too scandalous unfortunately, however, as usual, she was in my bedroom playing and not doing what she was supposed to!
I have asked her on several occasions not to mess up my bed by jumping on it!
Technically, she was behaving! She TOTALLY did NOT jump on my bed…instead…she made a fort!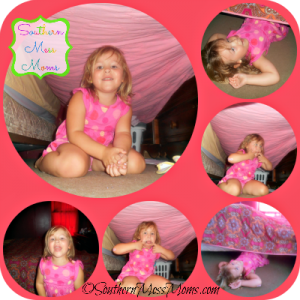 In order to make this fort she:
Pulled EVERYTHING off of my bed!

Dumped out two baskets full of clothes so she could use the baskets. Yes, I did have 2 baskets waiting to be put up…don't judge me! lol
Pulled three dresser drawers out to hold the blanket up.
Knocked everything off of the top of the dresser…let's just say those totally needed to be cleaned before hand!
Made faces at me when I caught her 🙁