Disclaimer: I was given the products in this post for the purpose of a review. I was not paid in any way to write this review. All opinions are my own.  This post may contain affiliate links that I receive commission or payment from in exchange for referrals. SouthernMessMoms is a participant in the Amazon Services LLC Associates Program, an affiliate advertising program designed to provide a means for sites to earn advertising fees by advertising and linking to Amazon.com.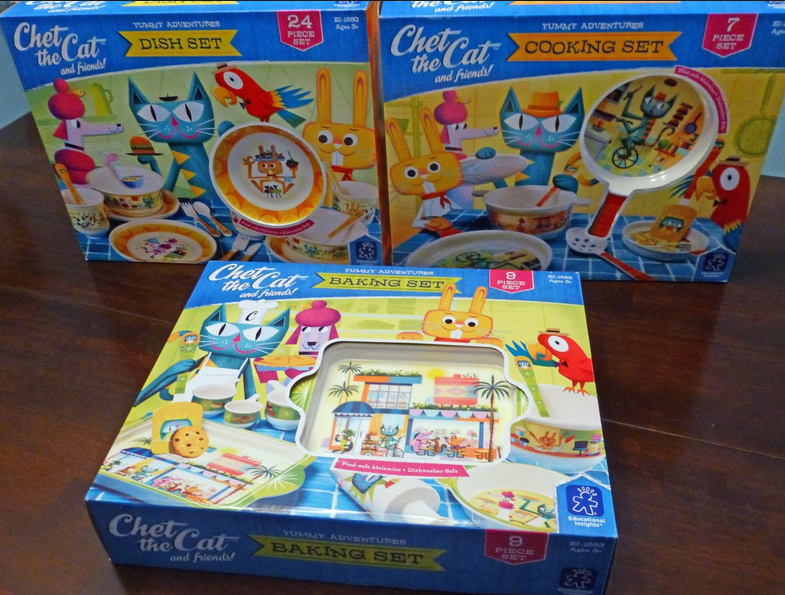 Hi guys! I'm back for another fun review from the Educational Insights crew! Chet The Cat and Friends! Yummy Adventures Dish Set is an awesome "play" kitchen set for kids.

If you don't remember the Magic Moves review…you should totally go check that out! It is kind of what started my wonderful career as a YouTube reviewer haha (career yeah right!!)
WE LOVE IT!
I love how much batter my child "snuck" lol I know as kids we all ate cake batter and licked the spoons…which is what she is normally allowed to do…Oh my gosh I about died watching this lol I can't believe how much she managed to eat! EWW lol 
I must say that
Chet The Cat and Friends
 is by far the BEST child's kitchen dish set that I have ever gotten!
I have always struggled with keeping them clean without messing them up and spending hours on end "getting the sticky out"…but not anymore 🙂
For the review we received: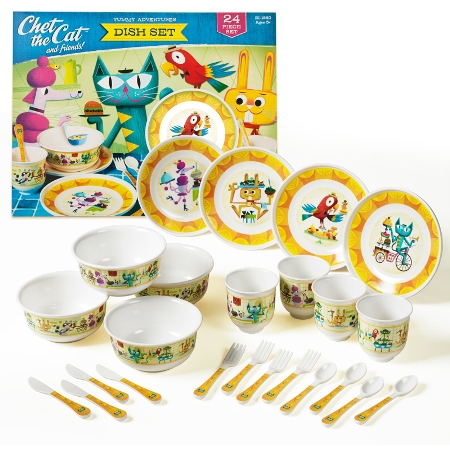 Dish Set – $29.99
• 4 Plates (5.5″), 4 bowls (4.25″ x 2″), 4 cups (2.25″ x 2.5″), 4 forks (4″), 4 spoons (4″), and 4 knives (4″)
• 100% Food-grade melamine and dishwasher-safe
• 1 Rolling pin, 1 mixing bowl (4.8″ x 3″), 1 pie pan (6″ x 1″), 3 measuring cups, mixing spoon (6.5″), spatula (6.5″), and cookie sheet (8.5″ x 5.5″)
• 100% Food-grade melamine and dishwasher-safe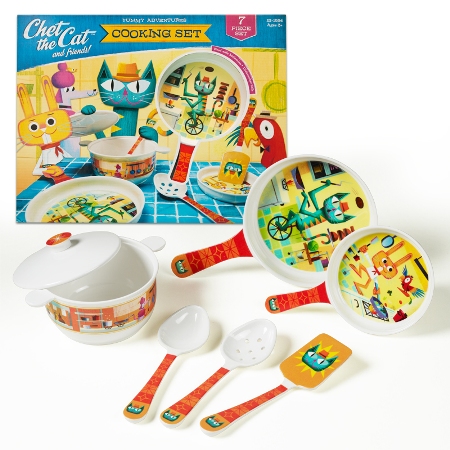 Cooking Set – $21.99
• 1 Stock pot with lid (4.75″ x 2.5″), 1 large frying pan (9″), 1 small frying pan (7″), 1 solid spoon (6.5″), 1 slotted spoon (6.5″), and 1 spatula (6.5″)
• 100% Food-grade melamine and dishwasher-safe
Curious where you can get your own?
Well be sure to click on each set image and it will take you right there!!
Another really neat thing that you get with the Chet The Cat and Friends Dish Set is a FREE download of some super cute place-mats for your little one to color and design!
Don't forget to check them out on Facebook, Twitter, Pinterest & YouTube!
Now for the GIVEAWAY!! 
Sorry guys…US & Canada only