Disclaimer: I was given the products in this post for the purpose of a review. I was not paid in any way to write this review. All opinions are my own.  This post may contain affiliate links that I receive commission or payment from in exchange for referrals. SouthernMessMoms is a participant in the Amazon Services LLC Associates Program, an affiliate advertising program designed to provide a means for sites to earn advertising fees by advertising and linking to Amazon.com.

In this day and age aren't we all trying to live just a little bit "greener"? Be it recycling, composting, or using re-usable containers, like Cool Gear, we are all trying to do our part.
I know that I am not perfect…I mess up and I do a lot of things that aren't great for the environment…BUT I AM TRYING! Are you trying to live "greener"? Why should YOU?  Because we are killing our planet with our waste and thoughtless-ness!  If you have been meaning to start living a "greener" lifestyle but lack the proper motivation, go watch this video.  It's worth the time I promise!!
Go ahead, I will wait…
No seriously…GO WATCH IT NOW!!
Back? Okay good! So…what did you think? Did it make you cry too??
Guess what?!?
We as moms can help to stop this! We can raise our children with an understanding of what their "waste" does to our world! We can raise them to think before they purchase…
think about the trash the product produces
about the natural resources used to create it
about it's lifespan and what happens when it's done…
Gosh guys, I know I sound like a major hippie right now…BUT IT MATTERS!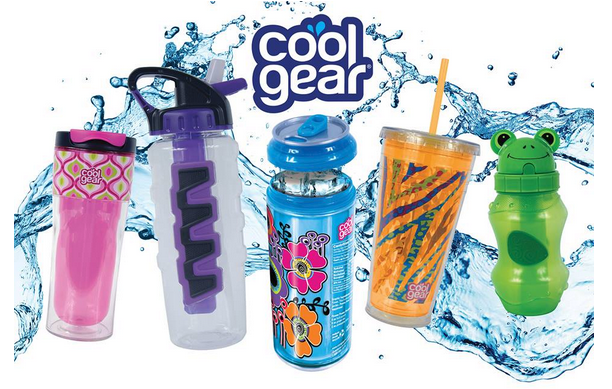 We are the ones that can make a difference. We are teaching our children what is right and what is wrong…think about it?
Some decisions that help aren't even that hard to make! Like NOT buying plastic water/drink bottles anymore! There is definitely a better way!
"About Cool Gear


Cool Gear International creates innovative products that strive to revolutionize the green movement with the hopes of eliminating disposable plastic bottle waste, as well as encourage a healthier and happier you. Through our patented technology, we help provide cool, clean water, as well as fresh, crisp, food for a busy on-the-go lifestyle. Every product has a sleek design that promotes individuality through its unique color and graphics. Consumers need products that fit into their schedule and reflect their personality. Cool Gear Goes With You."
I have to say that Cool Gear may just be home to the "coolest, most adorable" re-usable containers ever! Their product line includes water bottles, bar wear, travel mugs, food storage, lunch bags and a ton more!  Their reusable products are fun and colorful I have had quite a few people ask me where to find them, ages ranging from 5 to 50!! but most importantly, are reducing the amount of waste we put in landfills and oceans.  Their products are made with recyclable plastic that is BPA free and Phthalate safe!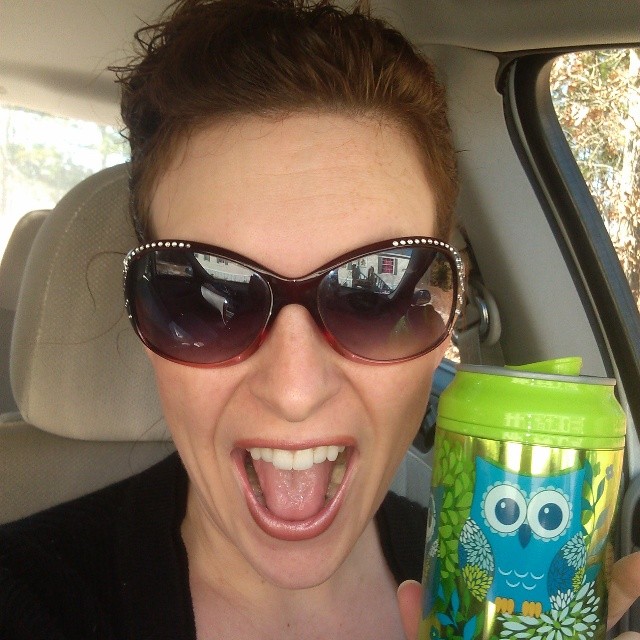 I have been using my Hooty Tooty Cool Gear Can, an innovative alternative to the water bottle, for a few weeks now and have nothing but awesome things to say about it!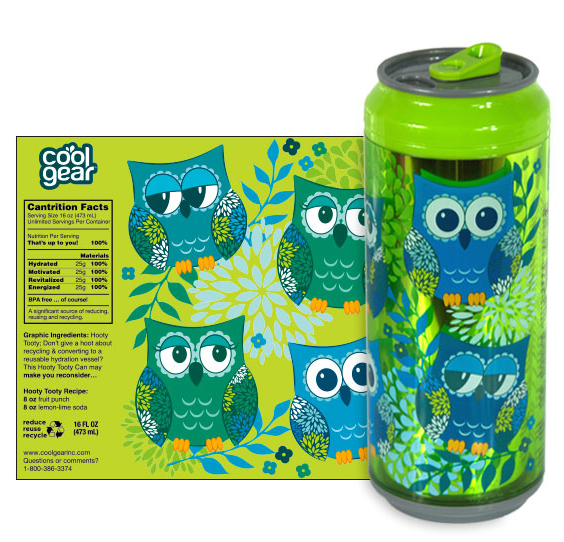 The Cool Gear Can looks pretty much like a normal aluminium can that you would purchase any where. However, it is a little bit larger and it's awesome double wall insulation helps keep your drinks cold longer!
The AWESOME spill-proof tab actually works! I have filled this little cutie up and tossed it into my diaper bag and not one single drop has leaked out! SERIOUSLY!! This totally never happens…these type of cups always leak…but not this one!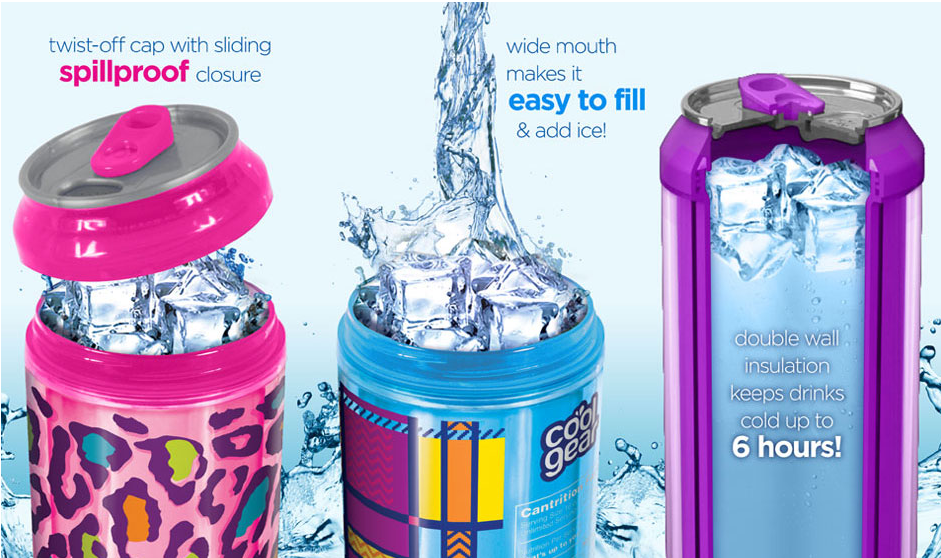 The lid screws off so we can fill it easily with water. It's even wide enough that we can fit ice inside…which for anyone that knows my daughter knows that this is important…because ya know "water isn't good without ice mom"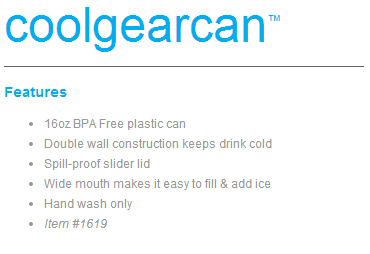 I have a good idea what you are thinking about now…I am not paying a ton of money for a dang water bottle…but guess what? It's totally almost crazy affordable!
It only cost $9.99!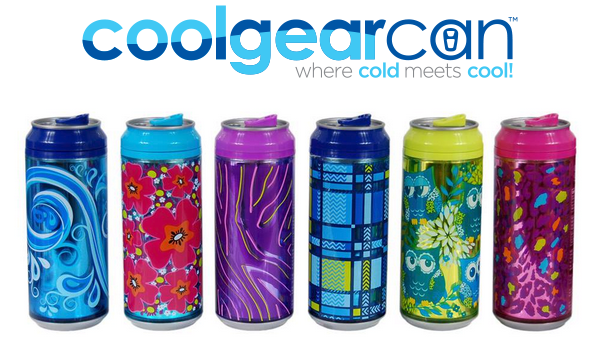 So head on over to the Cool Gear website and choose your favorite awesome, eye catching design!
Or you can head over to any of these awesome places and pick one up!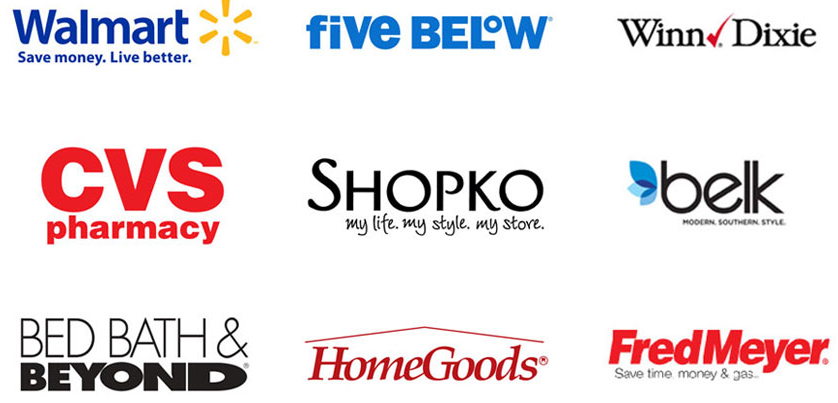 Don't forget to connect with the Cool Gear Brand online: