Disclosure: I got this product as part of an advertorial.
Disclaimer: This post may contain affiliate links that I receive commission or payment from in exchange for referrals. SouthernMessMoms is a participant in the Amazon Services LLC Associates Program, an affiliate advertising program designed to provide a means for sites to earn advertising fees by advertising and linking to Amazon.com.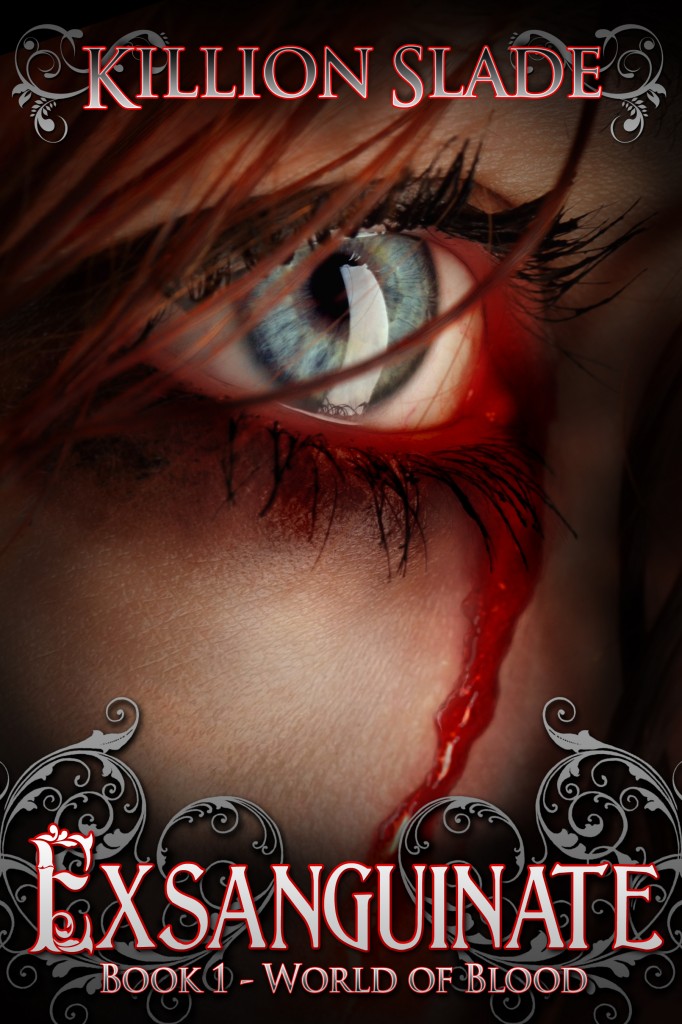 Author: Killion Slade
Website: KillionSlade.com
Genre: Science Fiction/Urban Fantasy/Horror
Books currently in series: 1
REVIEW     EXCERPT     INTERVIEW     GIVEAWAY
Book Length: 302 pages
Main Characters: Cheyenne O'Cuinn, Roxas Morgwain, Khaldon Seters, Sheridan O'Cuinn, Dakota O'Cuinn

"They can't touch you. What could possibly go wrong at Orlando's beloved Global Studios Halloween Scream Nights theme park? Cheyenne O'Cuinn's task is to study fear even though she is the biggest chicken on the planet. In order to carve out a slice of the billion dollar scare industry for her online role-play company, she researches what causes people to run screaming out of haunted attractions.
Determined to face her own fear of Oldhouseophobia, Cheyenne confronts her bloodcurdling obsession – the dreaded haunted house. Her worst nightmare manifested, Cheyenne is brutally attacked and left for dead by a rogue vampire. Splattered across the front page of the Orlando Sentinel, Cheyenne discovers her sisters are missing while she recovers in the hospital.
The ransom call from the kidnapper sets into motion the rabbit hole of a parallel supernatural reality she invades to rescue her family. In a race against the hourglass, Cheyenne confronts a double-agent vampire, a cyberchondriac werewolf, and a mafioso dragon. Can they be trusted to help her, or are they a part of the twisted scheme?
With her sister's lives on the line, Cheyenne has no choice but to beat the kidnappers at their own game and ensnare them with her own brand of deception. "

CHECK OUT MY REVIEW OF EXSANGUINATE HERE!

"If you want to find your precious Sheridan and Dakota, you need to login to ExsanguiNation. Go find the haunted barn by the cornfield. Do you understand, my pet?"
"What does the game have to do with this?" I ran my hand through my hair frantically pulling it out of my face.
"Everything! You have one hour to find it and follow the instructions. If you don't find it, then you'll receive body parts from Fed Ex to your condo."
Afraid of what he might say next, I gulped. He knew where I lived. Vampire or not, I wasn't safe anymore. Maybe I never had been.
"Okay, okay I'll be there. Where is the haunted barn? I've never programmed a barn in the game."
"Of course you haven't, idiot, I did."
"What the hell are you talking about?"
"Tut tut tut, that's no way to talk to a fellow vampire now is it?"
My eyes grew wide in horrific understanding.
"Cheyenne, GC 89 – we're alive!" Dakota screamed into the phone.
Bile crawled up out of my stomach and creeped into my throat as my hands covered my face.
"Please, hold." The phone filled with oldies Muzak.
As fast as Dakota's voice emerged, it was gone again.
Oh My God – they're alive! Did I hear her right? GC 89? What does that mean?
I jumped out of bed and paced back and forth in the room. The hold music turned off, and Ludovic came back to the line.
"Please let me talk to her. Please don't hurt them." I cried into the phone, "I'll do whatever you want. What do you want, money? Just give me till tomorrow afternoon and I'll get it."
"Thank you for holding, Miss O'Cuinn. I don't need your money. I want you in exchange for your sisters. Be at the red, haunted barn in one hour or you'll live with their deaths on your bloody hands the rest of your pathetic existence."
My mind raced for comprehension. It had been a little over a week since the attack and Ludovic was just now contacting me. How does he know I'm home? Are there any cameras in my house?
I'm bugged!
"Padme, awake!" My computers instantly came online. Logged in into the portal, I typed 'red haunted barn' into the search field of the game. No results returned. Shit. Shit. Shit.
"Padme, mute!" I thought for a moment. "Padme, are there any external cameras added to the system? Any hidden communication or transmission devices?"
"Scanning. Negative. I detect zero unauthorized sensors."
"Padme, unmute."
"Ludovic, how did you know I was home?"
"Wouldn't you love to find out, my pet?" His voice slimed over me.
"There aren't any haunted barns coming up in the search engine parameters."
"Have you checked for any external worlds that aren't on your simulators?"
"You hacked into my game? You fecking … hacker … you."
"Tsk tsk tsk. Such foul language from a lady. Keep it up and you'll lose another ten minutes."
"What do you mean lose another ten minutes? You said I had an hour."
"You've taken enough of my time today. To answer your question however, good news travels fast through the grapevine. Oh, and one more thing. Don't bother calling your dear father or the cops. If you're not careful, even more loved ones will be joining your sisters. Goodbye, Cheyenne."
The phone went dead.
"Wait! What? Hello, hello? Ludovic!"
Dammit!
"Padme, run a reverse lookup on that number and dial it back."
"Locating."
Lightning crashed again as sheets of rain pummeled the windows. The palm fronds on the trees outside looked as if the wind were at least a hurricane Cat 3. The power inside the house flickered on and off.
"Unverifiable."
Dammit to hell!
I grabbed my cell phone off the charger and called Harris. He was the only person I could trust.
Damn voicemail!
"Harris, call me back as soon as you can. I've been contacted about Kota and Sher. Please call me as soon as you get this!"
I paced back and forth a few moments.
Breathe. Use logic to figure this out. You can do this.
Okay, so what did I know?
Ludovic knew I was home.
I'm not bugged.
He knew my house line.
Dakota and Sheridan are alive.
Dakota yelled out GC 89.
Ludovic hacked into my game.
I grabbed a picture frame of my mother and hugged it to my chest.
THINK!
Who can help me track this guy? I need another hacker.
I swallowed hard and pulled Khaldon's card out of my pocket.
I sure hope he plays video games.
Khaldon answered on the third ring. "Cheyenne, is everything okay?"
"How did you know it was me?"
"I don't give out this number to just anyone."
"No, everything is not okay. I just got a call from Dakota's boyfriend." Khaldon's calm voice pushed me over the edge. "He's the one who kidnapped them. He's holding them hostage."
"Okay. Hold tight. What can I do to help?" His voice was smooth and collected.
"He wants me to play, inside my game, to find a haunted barn where I will find further instructions. I was hoping you could track server side to determine his location. I have less than an hour to find it, or he said he would start sending body parts in the mail."

Q.  How did you meet?
A. We met in the virtual reality online game Second Life. Mr. Slade was selling his real world photographs to other game players, and Mrs. Slade was doing research for a client related to World of Warcraft. After a casual meeting at a dance club, it was discovered that we both worked in the same profession with separate specialties. This led to days at work conferencing over VoIP, and evenings virtually dating on Second Life. Less than a year later, Mrs. Slade had made the move to Montana. Virtually commuting days at the day job and spending evenings together in real life became our normal lifestyle.
Q.  This novel has an interactive second screen website?
A.  Yes, we were inspired by Chantal Noordeloos from her recent release on Coyote, with their second screen version.  To read our novel, it is stand alone, but for those who want a little more – we provided the extra special secret bonus features.  We like to think of it as a Blu-ray of reading.  You loved the movie – now you want to see the special features, deleted scenes, interviews with the characters, etc.  That is how we envisioned a reader might want to enjoy a few of the extended scenes which didn't necessarily move the story forward or have the action required, but they would enjoy reading an extended zombie parade scene, a Battle Kroc fight sequence, or expand on the haunted houses inside the theme park.
The ebook version has interactive links to the World of Blood website which does exactly that.  It allows the reader, if they so desire, to navigate to the website from their phone, tablet or PC and read the extras, check out the pictures of the cast, and learn more from each character's dossier.  The printed book has a QR code is embedded in the text inviting the reader to experience more if they would like to explore.
Each version of the book stands alone on its own.  A reader need not use the website to enjoy the story. The website is for the extra little goodies. Scenes that we wanted to include, but didn't necessarily move the story forward at the fast pace needed in today's instant gratification society.  For example, we enjoyed writing out a detailed zombie parade scene, it was great fun, but all of that detail didn't have direct impact on the plot structure and needed to be cut.  We wanted to reward the reader who would like to have read the zombie parade scene, and now they can.
Q.  How do you story board inside Second Life?
A. Together we own a small section of mainland where we have a photography studio and enough room to build custom backdrops. The studio has hundreds of poses as well as third party "pose balls" which enable us to position the avatars to build our scenes. Not only does this allow us to set a scene, it also gives us a reason to spend time where we met. Our book trailers rely heavily on the scenes created inside Second Life.
Q.  Why did you choose to write this story?
A. We had both done some personal writing in the past. Deeply interested in vampires, dragons, and other preternatural and natural phenomenon, a spark formed. We began talking about a story line that encompassed our combined interests. This story involves items from history, mythology, virtual realities, and our imaginations.  The impending 2012 apocalypse that never happened was also a huge inspiration to the series.
Q.  Is it hard to write with your spouse?
A. We must both admit that yes, writing with a spouse can definitely have its challenges, but the rewards outweigh any obstacle thrown at us. It's fun to have a conversation about people who don't exist and turn them into characters people can enjoy or love to hate.
Q.  Would you do it again?
A. Not only would we, but we have planned out the World of Blood series to include three, possibly four books.  We look to release The Blood Oath – World of Blood Series Book Two in 2014.
Now for the FUN interview I sent 🙂
Describe your book/series in 15 words or less!
A vampire urban fantasy series for modern world, real people with healthy imaginations!
I totally would have gone with: Strong gamer chicks save the world with the help of hot paranormal guys! haha 😀
When did you start writing? How did you come up with your books name?
I've been writing most of my life, but didn't get serious about publishing my stories until 2011.  I wanted a unique name about blood, but not the same type of words.  I remembered a Florida Blood bank t-shirt I received once for donating blood to get Renaissance Fair tickets and it had the term Sanguine on it and from there, the research was set!
What is something about yourself that most of your readers don't know?
I have children who span 27, 23, 20, and 7!
How do you spend your time when you aren't writing?
Truthfully – I still have a full-time day job which is very demanding and I love it.  There are times when I wish I had more time to write, but I make it an effort every day to write and edit on my lunch hours and at night. When there isn't snow outside, I enjoy my daughter, gardening, and taking walks with Beano.
What do you find most challenging about being an author?
Challenging is being able to keep up with the demands for additional stories and the next book, while maintaining a full time job.  Plus, in today's age of publishing, it's not just about writing your books, but marketing and promoting them as well.
What do you find most rewarding about being an author?
The MOST rewarding moment is when I read a review where a reader has fell in love with a character as much as I have!  They can't wait to see what happens next.  It fills me to absolute joy that I was able to take them somewhere, to escape, if just for a little while to enjoy the world and friends I have created.  I love my readers – they are real people like me.  They love to work hard, play hard, and truly try the best they can to raise their families.  I always want to identify with who I'm trying to reach by sharing real world concerns, challenges, emotions, fears, and triumphs.  We are all human, we all bleed when cut, we all laugh when happy and if I can help a person escape their realities for just a little while – then I have created a human connection with them that I hope to continue.
Oh wow! What an AWESOME answer! I just knew when I got the chance to work with you it was going to rock! Hehe
What book are you most proud of so far? 
I have several anthologies that I am very honored to be a part of, but of course, right now my favorite book is Exsanguinate!
What are two of your favorite characters in your books/series?
That is a TRULY difficult question to answer because each of them speak so very different to me.  I would have to say, I love Cheyenne (the heroine) she is so strong, but feels so vulnerable and a failure to others.  The other character would have to be Dakota.  Dakota gets to reveal her inner demon (so to speak) and allows me to write an edgier side to the story.  Her characters allows for darkness to fall and I like writing in that arena.
Was there a music playlist for you while writing? If so can you share a few songs from it?
I do listen to music quite a bit.  I am a movie soundtrack buff, especially when the music is creepy and haunting.  I try to find playlists to match the mode of each scene I write.  Some of my favorites are movie scores from the Hunger Games series and Twilight.  I like to listen to anything from Carter Burwell and James Newton Howard.
Ask me one question…any question at all and I have to answer it no matter what!
What are you MOST afraid of and how do you deal with that terror?
Oh gosh…while many of my fears have changed over time (I am terrified of heights and don't even try to deal with it lol) I think one thing that I have been afraid of most of my life is not being a good mom. My childhood was far from "normal" heck it probably wouldn't even be considered legal or safe…and I guess I just always worried that I would screw up. I've dealt with the fear with the help of my supportive husband and sometimes I think I over compensate wtih my girls because of it. However, so far (5 years in) I feel like I am a pretty dang good mom to my girls 🙂
If you could have any one toy what would it be? Why?
My toy would be a yacht that I could put around in the Earth's bathtub.
If you could have one super power what would it be? Why?
To clone myself and allow my unique mes to get everything done!  I have so much that I want to do and simply not enough time to get them all accomplished.
What would I find in your refrigerator right now?
Juice, milk, sandwich goodies, greek yogurt, blackberries, kiwi fruit, homemade pickles and applesauce – PLUS a myriad of condiments that collect and clutter.
That sounds so much healthier and cleaner than anything in mine! My kids have taken over my fridge! I so need to get this back under control! lol
If your book/series was a dessert, what would it be and why?
I believe it would have to be a decadent red velvet, black forest cheesecake.  This book series has so many layers just wanting to burst forth with each new bite!
What do you think about when you are alone in your car?
I am constantly thinking about the structure for my next scene.  I spend an amazing amount of time crafting a scene before writing it.  From research on the setting to layer in the tone and mood, the five senses, the emotional make up for each character in each scene is extremely important, and then finally who has the most to lose in a scene.  Once I determine the goal, motivation, and conflict for each character, I can choose whose point of view it needs to be written from and then allow the words to formulate through my fingers.
It totally shows that you put this much time and thought into each scene! I love the way the book flows and immerses the reader in the world!
What song best describes you? Why?
Happy by Pharrell Williams!  I strive to live life to be as happy as I possibly can

Killion Slade is a married writing team who met in the virtual realms of Second Life and virtually enjoy everything. Mrs. Slade writes and crafts the stories, while Mr. Slade formats and publishes. Members of the Horror Writers Association and the Paranormal Romance Guild, they storyboard their characters inside Second Life as their avatars reveal their stories. Tucked away in the foothills of the Rocky Mountains in Northern Montana, they stay busy chasing kids, corralling horses and cats, and enjoying the harvest from their garden. Married on Halloween – they love to live life to the fullest and embrace one another each and every day.
Killion Slade can be reached at the following:
Email:  Killion@killionslade.com   Facebook   Website   Amazon Author Page   Google+   Twitter

Enter to win!!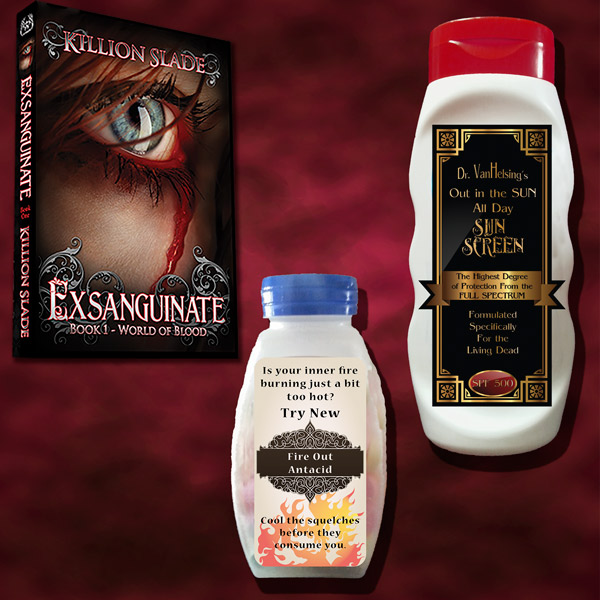 This prize package has a signed print copy of the book, Fire Out Antacid for Dragons, and Van Heilsing's Sun Block  SPF 500 Sunscreen for Vampires.  I am also including a custom bookmark made with a charm of the cover of the book and vampire teeth with blood dripping from them 🙂  I also thought it might be fun to include some dragon gold which are chocolate coins.
I received one or more of the products mentioned above for free using Tomoson.com. Regardless, I only recommend products or services I use personally and believe will be good for my readers.