Disclaimer: This post may contain affiliate links that I receive commission or payment from in exchange for referrals. SouthernMessMoms is a participant in the Amazon Services LLC Associates Program, an affiliate advertising program designed to provide a means for sites to earn advertising fees by advertising and linking to Amazon.com.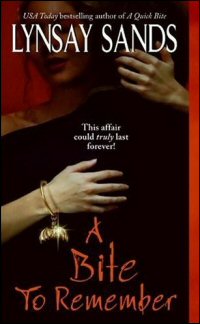 Book Length: 384 pages
Main Characters: Vincent Argeneau and Jackie Morrisey
Click here for the full series review!

"In A Bite To Remember there are rules…
Rule #1: Never get involved with someone who won't be there for you when the sun comes up.
Once bitten, twice shy – and sexy PI Jackie Morrisey wasn't going there again. Vincent Argeneau may be the hottest guy she's ever met, living or dead, but she's here to stop a killer from turning this vampire into dust, not to jump into bed with him.
Rule #2: Never kiss a vampire . . . it can be a pain in the neck."
I loved this book! It was a big change from the others in the series. Most of the other books had a overall easy going, humorous, romantic feel to them. There were moments of suspense or action but not a lot. This book however is stuffed to the gills with suspense, mystery, romance, and darkness.
Jackie is a PI with a bad background with a vampire. Although she is close to loathing vampires in general…she knows when to take a case. When an Argeneau asks for help she would never say know, especially after all the help they have given her family in the past. When Vincent needs help finding a killer she is up for the job…I mean it's not like she is expected to jump into his bed!
Vincent has slowly grown tired of life, the only thing keeping him around is his business and even that isn't holding his attention. When "accidents" start to happen and it seems like sabotage his cousin calls in the sexy PI Jackie. I love the interactions between these two. It gets pretty fierce and some majorly mature romance happens. In some of the other books in the series the romance verged on the edge of teenish. This book has a completely different pace than the others. She shows how great of a writer she is! She finally let go of the "fluff" and let the story go down a darker path that it has been trying to go down and I can honestly say it was a whopping success!!