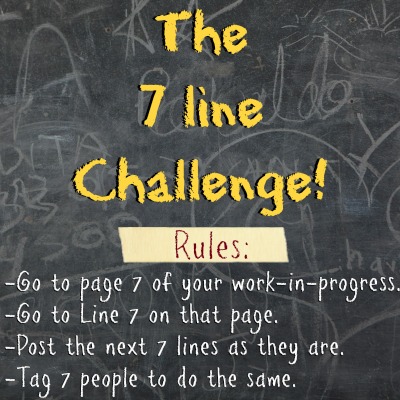 I was tagged by Stephanie Waldrop and ST Bende for the 7 lines challenge. I have had a horrible case of writer's block lately…but I can still share something I wrote a little while back! (I cheated…it's a bit more than 7 lines…oops? I forgot how to count?)
Anyways…all excuses aside…here are a few lines from page 7 starting at line 7 of my current work-in-progress FaeTAL.

I slowly inch my way across the bed until I am just in front of him. I nervously glance up to see his reaction and swallow loudly at the surprise on his face … the stiffness of his body. Shit, I need to say something.
"I…umm..I'm sorry…I..I'll just-", I trail off and move quickly back to my side of the bed and roll so that my back is to him. What the hell was I thinking?
God, I feel like such an idiot right now! I close my eyes tightly and I tremble a little as memories flood my mind.
"Shh…it is okay. You are safe now", he whispers in my ear as he ever so slowly wraps his arm around me and pulls me to him. Wow, I didn't even notice him move my way. Holy mother, his arms feel nice around me!
I roll over to face him, glance up into his sincere green eyes and snuggle into his strong arms. I let out the breath I didn't realize I had been holding and close my eyes. I feel his hand running along my arm as I am finally pulled back into the wonderful world of unconsciousness.
So what do you think?? Want to see who I tagged? CLICK HERE!