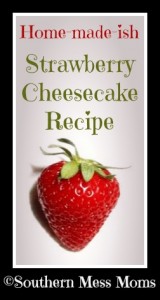 No I'm not just going to say buy a cheesecake and strawberries! I'm not that lazy! I have a recipe…somewhere!
WARNING: I'm an awful cook…but hey this is one I've done in the past for Christmas parties!
I promise…there were no fatalities!
1/2 cup graham cracker crumbs (can use as little as 4 tbsp. I like my graham cracker)
8 ounces of cream cheese
1 cup of white sugar
4 eggs
1/2 tsp. vanilla extract
2 tbsp. water
4 cups of FRESH strawberries
Put the graham cracker crumbs into a greased pan.
Mix the cream cheese and sugar together, make sure it's well blended.
Add the eggs one at a time I MUST STRESS SOMETHING HERE….NO SHELLS IN THE MIX!
Mix in the vanilla extract and toss it pour it into the pan.
Bake for about 50 minutes Be sure the oven is on…and the cake is in it!
Let it cool off before you remove it from the pan…seems like a duh but hey you never know!
Arrange 2 cups of sliced strawberries on top of the cake! Now gracefully toss it in the trash!
MOST IMPORTANT STEP: Now that your house smells and looks like you cooked a cheesecake…pull out the one you bought from a professional…add some strawberry syrup and the last 2 cups of cut up strawberries on top and VOILA a beautiful, edible, home-made-ish cheesecake! hehe Shhh don't tell my secret!
**This really is a cheesecake recipe…if you know how to cook feel free to skip step 8 🙂