Disclaimer: I was given the products in this post for the purpose of a review. I was not paid in any way to write this review. All opinions are my own. This post may contain affiliate links that I receive commission or payment from in exchange for referrals. SouthernMessMoms is a participant in the Amazon Services LLC Associates Program, an affiliate advertising program designed to provide a means for sites to earn advertising fees by advertising and linking to Amazon.com.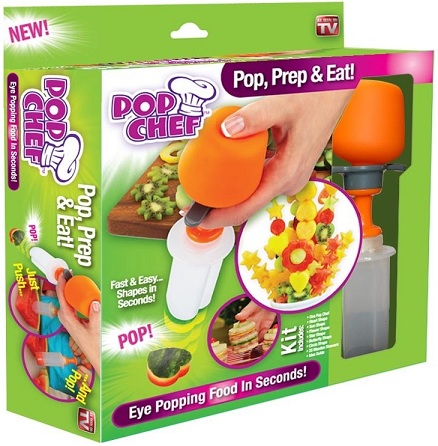 I love doing creative and fun things with food….however, I hate wasting time on something that my kids don't even notice! Pop Chef solved my problem!
Not only did it not take long to use…Emalee can do it with me!
So, if you have been reading my blog for long, you probably remember my review of FunBites…and how not thrilled I was with the results.
It wasn't that it didn't work per say…it was more that it was wasteful and Emalee didn't even seem to care that it was done.
When I got the chance to do a review on Pop Chef, I was a bit hesitant…nervous about how it would turn out. I just didn't want to try to put a positive spin on something that simply didn't work.
Luckily, that wasn't an issue!
Pop Chef is the new, fast, and easy way to make awesome edible creations that don't cost you a ton! Their secret is the 3-in-one action: basically it shapes, pops and creates all with one move! To top that off it does it without the mess or hassle of knives or cookie cutters.
This product can make you look like a pro…even if you're only 4! hehe
Pop Chef is perfect for use on fruits, cheeses, vegetables, breads, potatoes, and so much more!
As you can see from the back of the box, Pop Chef claims to be useful in many ways. I was able to test it out in a few and most were pretty successful!
I will admit that I didn't go all "super mom" like blog with mom and make a full arrangement with fruit….sorry guys! You will just have to check out her awesome work for that one!
When they say it's as easy as 1-2-3 they mean it!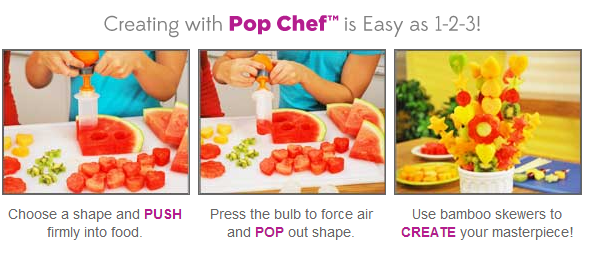 Our favorite was making home-made potato chips with Emalee!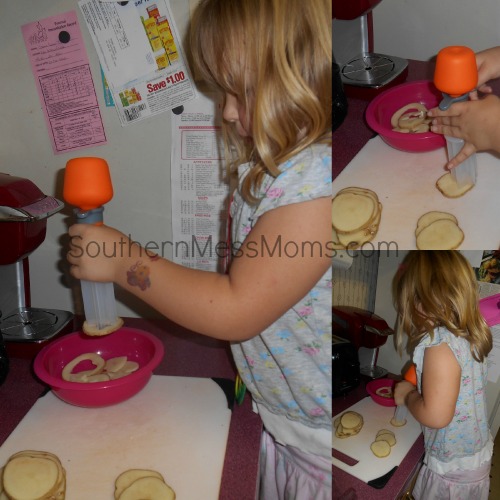 She had a blast helping me cut out the shapes and then getting the chance to eat the results of her "hard" work.
The one thing that I attempted from the totally awesome recipe book that comes with the Pop Chef that did not work was the stuffed peppers.
My hubby and I make stuffed peppers all the time! It is one of my favorite meals…however, when I attempted to do it with the cute little stars popped out of the side…well to put it simply EVERYTHING OOZED OUT OF MY PEPPER! lol
Even with this massive failure…probably on my part some how…I still love my Pop Chef and can't wait to use it over and over again! Who knows…I might even go all creative mom and make an edible arrangement for Thanksgiving!
Be sure to hop on over and check out Pop Chef on their website! They have an amazing deal going on right now! The 10 Piece Pop Chef set is available for only $10.99 at retailers all over!